Spectrasonics Instruments Bundle 2023
System Requirements:
Apple Silicon & Intel Supported

Lifetime Activation & Access To Download
Future Free Updates

Full Version

Instant Download
OS Requirements – Mac:

OS 10.13 to All New MAC OS X Versions 

VST2, VST3, AU, AAX, and Standalone host.
205GB Hard Disk Or External Drive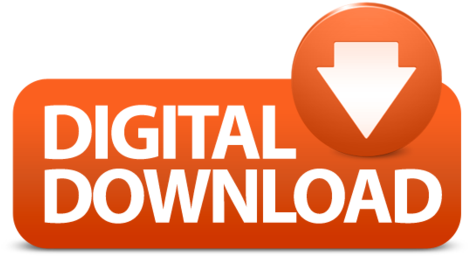 View More
Product Description
Included In This Bundle 2023 Requires 200GB Can Use External Drive
Omnisphere 2.8 2023

 Keyscape 2023

Trilian 2023

Stylus 2023
Unleash Omnisphere 2.8 On Your Music
For years, Omnisphere has been an essential virtual instrument for songwriters, sound designers, and composers ranging in genre from EDM to cinematic scoring, but Spectrasonics Omnisphere 2.8 software synth totally ups the ante with a truckload of new features that instantly grabbed the attention of the electronic musicians and serious synth mavens here at Sweetwater. Omnisphere 2.8 includes 600 new patches, expanded hardware synth integration, and arpeggiator upgrades such as new Pattern modes, step dividers, pitch slides, and the ability to alter chord voicings and inversions per step.
Omnisphere 2.8's powerful synthesis engine is loaded with over 14,000 beastly sounds with four layers per patch, 57 powerful FX Units, and more ways to create original sounds than you can imagine. New features include potent Granular, Harmonia, Innerspace synth engines; the ability to intuitively zoom into deeper synthesis levels; Hardware Synth Integration, which transforms over 30 popular synthesizers into hands-on controllers that unleash Omnisphere's full sonic firepower; and much more. And to accompany Omnisphere 2.8's expanded capabilities is a new re-sizable, high-resolution interface that puts the sounds you want and the tools you need to tweak them in your hands faster than ever before.
Related Videos: Omnisphere 2.8 Software Synthesizer
New in Omnisphere 2.8:
Expanded Hardware Synth Integration allowing intuitive control of Omnisphere with even more supported synths
Over 14,000 sounds
New Hardware Library adds over 1,600 new Omnisphere patches for all users
Vastly Expanded Synthesis Engine
Four Layers per patch
Doubled Mod Matrix
Over 100 New Wavetables
New State Variable Filters
8 LFOs, 12 Envelopes
New re-sizable, hi-res interface
New Granular layout
Improved Live Mode page
New Shared Signal Path routing
New System Tuning/Scale functions
Windows Multitouch support
Hardware Synth Integration
Omnisphere 2.5 was the first soft synth to offer Hardware Synth Integration, which transforms popular synthesizers into hands-on controllers that unleash Omnisphere's newly expanded synthesis capabilities — a groundbreaking feature that makes using Omnisphere feel just like playing a hardware synthesizer. This cutting-edge innovation bridges the gap between software and hardware, giving you intuitive control of Omnisphere by using the familiar layout of your favorite supported hardware synth. Virtual instrument users can finally experience the immediacy of a hardware-based workflow; and hardware synthesizer players can now seamlessly expand their sonic horizons into the vast world of Omnisphere. With Omnisphere 2.8, Spectrasonics raises the bar yet again by greatly increasing the number of supported synths.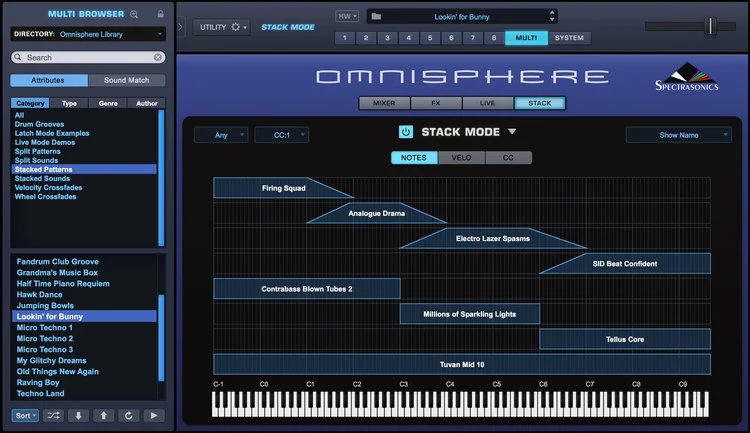 Supported hardware synthesizers for Omnisphere 2.8:
Roland JD-XA
Roland JD-Xi
Roland JP-08
Roland JP-8000
Roland JU-06
Roland JUNO-106
Roland JX-03
Roland SE-02
Roland SH-01A
Roland SH-201
Roland D-50
Roland GAIA
Roland Super Jupiter
Roland System-1
Roland System-8
Roland VP-03
Korg microKorg
Korg Minilogue
Korg Minilogue XD
Korg Monologue
Korg MS-20ic
Korg MS-2000
Korg Prologue
Korg Radias
Moog Little Phatty
Moog Minitaur
Moog Sirin
Moog Slim Phatty
Moog Sub 37
Moog Subsequent 37
Moog Sub Phatty
Moog Voyager
Dave Smith Mopho
Dave Smith OB-6
Dave Smith Pro 2
Dave Smith Prophet 6
Dave Smith Prophet 8
Dave Smith Prophet 12
Dave Smith Prophet X
Dave Smith REV2
Nord Lead 1
Nord Lead 2
Nord Lead 3
Nord Lead 4
Nord Lead A1
Nord Stage 3
Nord Wave
Andromeda A6
Novation Bass Station II
Novation Circuit Mono Station
Novation MiniNova
Novation Peak
Virus A
Virus B
Virus C
Virus Indigo 1
Virus Indigo 2
Virus TI
Yamaha Reface CS
Studiologic Sledge
Deepmind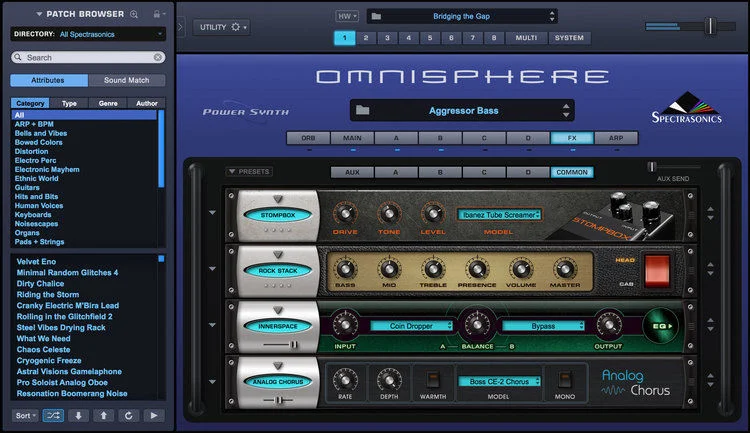 Omnisphere 2.8 has a new Hardware Sound Library
Omnisphere 2.8 software synth includes a hot new Hardware Library with over 1,600 new patches created by Eric Pershing and the acclaimed Spectrasonics sound development team. Every hardware profile has a corresponding soundset in the Hardware Library, specially designed using that hardware synth as an Omnisphere controller. These inspiring sounds cover a wide range of categories and many have a distinctly "classic analog" vibe. The new sounds and Omnisphere patches are available to all users, whether you're using the hardware or not.
Never, ever run out of amazing sounds
The awesome power and versatility of Spectrasonics' flagship soft synth have established it as the sonic weapon of choice for musicians and producers who need a massive arsenal of next-level sounds for records, sound design, games, and film scores. While the prospect of commanding this much synthesis power might be intimidating, you can forget about starting from scratch or even investing a whole lot of time into tweaking your sounds: if you just want to be able to call up a patch and make music, Spectrasonics Omnisphere 2.8 has you covered.
Omnisphere 2.8 rocks a killer sound library with over 14,000 patches organized in such a way that you can quickly find the kind of sound you're looking for. Then you also have all kinds of unique and specialized sounds to look forward to, including a library of exciting EDM patches, exclusive Soundsources from Diego Stocco's custom-built instruments, circuit-bent tones, and psychoacoustic effects. Spectrasonics' award-winning sound development team even went so far as to sample the melodic sound of the stalactites hanging in a radioactive cave in eastern Europe, just to give Omnisphere 2.8 its unique edge.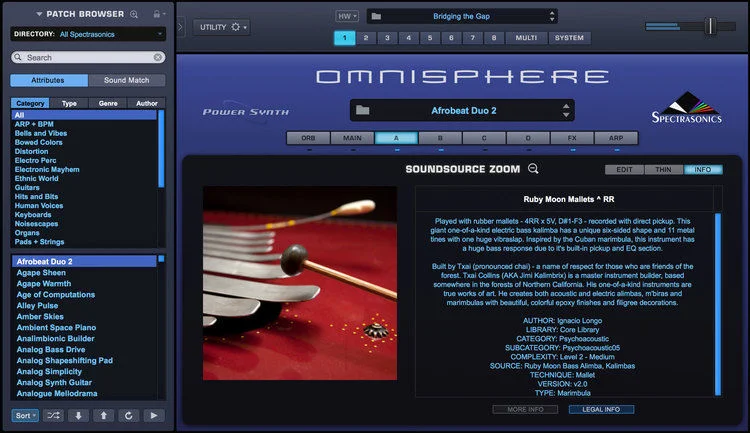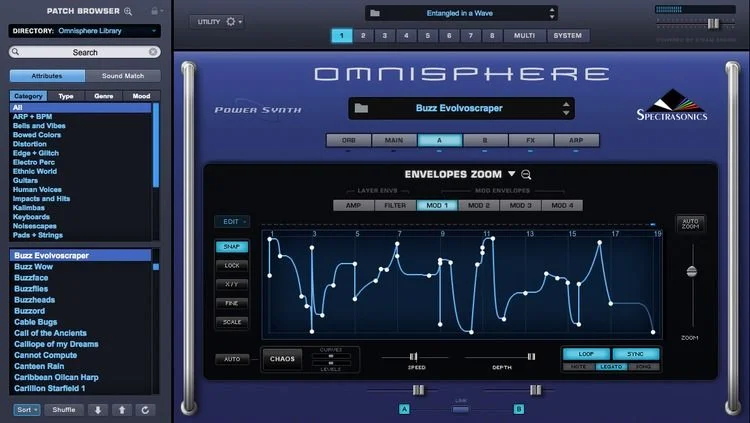 Synthesis tools let you create any sound you can imagine
What if you want to dive in? In that case, hang on to your hat! Whether it's Omnisphere's Audio Import function, which lets you use your own audio as oscillator sources, or 500 morphing-wavetable-based DSP waveforms for the Synth Oscillator, there's no denying the sheer sound-shaping power this virtual instrument has to offer. There's a totally new granular synthesis engine onboard, too, plus seriously upgraded FM/ring mod, filter, unison, arpeggiation, and modulation options, all of which let you create cooler sounds than ever. Even if you're not a synthesis guru, the ability to borrow effects, arpeggiator, and other settings from one patch to the next is golden.
Enhance your sounds with loads of killer effects
There's another great way to tweak your tones in Omnisphere 2.8: effects — tons and tons of effects, to be specific. For starters, Omnisphere 2.8 boasts a total of 57 FX Units, any 16 of which can be deployed simultaneously. Many of the newer FX Units, such as the Hi-wattage and Metalzone Distortion, are modeled after guitar amplifiers and stompbox effects, but there are also freaky cool effects like the Solina Ensemble, plus a complete suite of analog modeling processors to choose from. What's more, each FX Slot supports matrix modulation, and there are hundreds of new FX Presets and Racks to play with.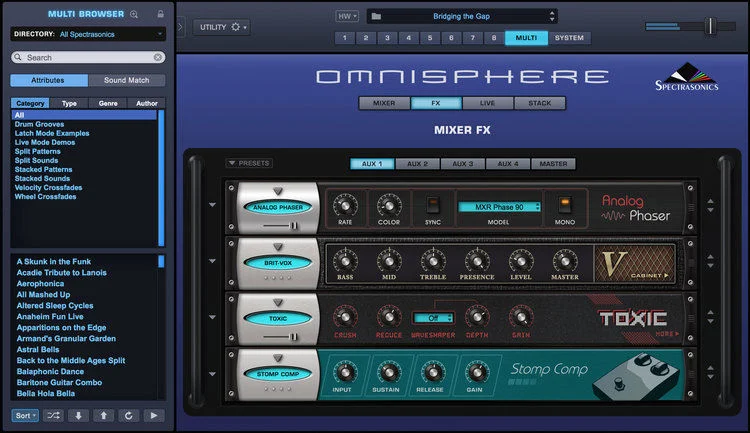 Spectrasonics Omnisphere 2.8 Features:
Over 14,000 inspiring sounds for all types of music production
Vastly expanded synthesis engine with 4 Layers per patch and doubled Mod Matrix
Groundbreaking Hardware Synth Integration for hands-on control of Omnisphere
Audio Import lets you drag-and-drop your own audio file to use as a sound source, which can then be processed with synthesis features
Synth Oscillator with over 500 DSP waveforms and up to 20 oscillators per patch (can be either DSP synth or sample-based)
Sound Match feature instantly locates related sounds in the library
Hardware Library with over 1,000 new "classic analog" Omnisphere patches for all users
EDM library with modern, next-level sounds
Powerful Granular Synthesis for stunning transformations
57 powerful FX Units, fully integrated and modulatable
Psychoacoustic sounds from the Spectrasonics sound development team
Sound Lock feature creates endless useful variations by locking sound aspects while browsing
Wavetable Synthesis (each waveform is a morphing wavetable)
ORB circular motion interface allows infinitely shifting variations
Deeper FM/Ring Modulation capabilities for aggressive timbres
Dual Filter architecture includes more than 34 Filter algorithms in series or parallel
Performance-oriented Live Mode allows for seamless patch layering on the fly
Flex-Mod modulation system for powerful, modular-style matrix routing
Stack Mode interface allows complex patch layering, splits, and crossfades
Mini Browser available at all times in addition to larger Full Browser
High-resolution resizable Interface with intuitive zooming into deeper synthesis levels
8 independent Arpeggiators with unique Groove Lock feature
Polyphonic Timbre Shifting/Crushing, Waveshaping, and Reduction
8 full-featured LFOs per patch, with syncing and complex waveforms
12 Envelopes with both simple ADSR-style or advanced multi-breakpoint interfaces
Easy Sound/Project Sharing for collaborators and third-party libraries
Keyscape's Custom Controls let you tweak to perfection
In addition to the hundreds of included patches, Keyscape offers the amazing versatility of being able to dramatically shape and morph these iconic sounds — something we Sweetwater sound tweakers appreciate. Every patch in Keyscape includes Custom Controls that let you customize the sound to your heart's content. Keyscape's user-friendly interface gives you truly useful performance controls and top-shelf effects processing crafted expressly for each patch.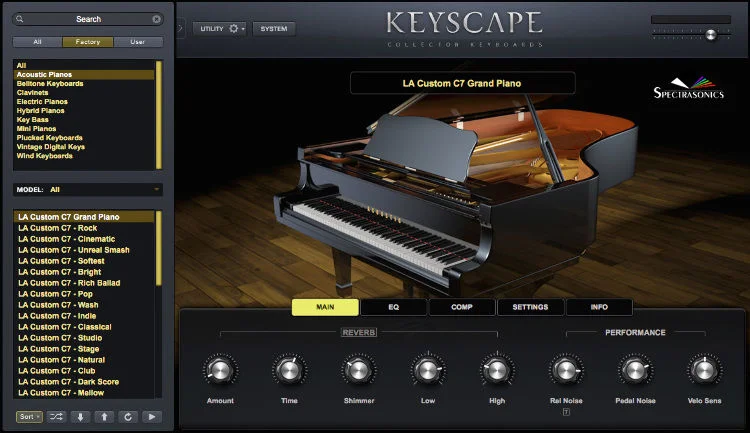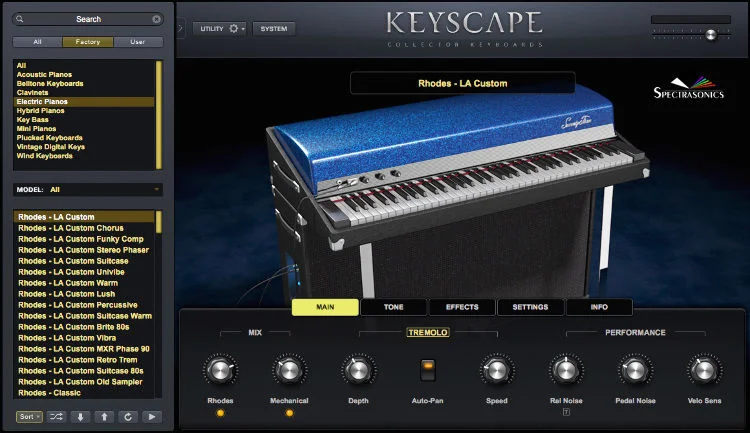 Modeling the imperfections for authenticity
For many of these collector instruments, it's their imperfections that make them so iconic. So wisely, Keyscape didn't clean up the quirky noises that are a vital ingredient of these classic instruments' unique vibe; they made sure to capture them accurately. What's more, Keyscape meticulously models the behavior of vintage amplifiers, classic FX units, and unique subtleties like mechanical, pedal, and release noise behaviors and release overtones to elevate these sounds to an entirely new level of authenticity and expression.
Keyboard Models included with Keyscape:
LA Custom C7 Grand Piano
Wing Upright Piano
Wing Tack Piano
Rhodes — LA Custom "E"
Rhodes — Classic Mark I
Wurlitzer 140B
Wurlitzer 200A
Yamaha CP-70
Vintage Vibe Electric Piano
Hohner Pianet M
Hohner Pianet N
Hohner Pianet T
Weltmeister Claviset
Hohner Clavinet C
Hohner Clavinet-Pianet DUO
Vintage Vibe Vibanet
Celeste
Chimeatron
Dulcitone
Clavichord
Dolceola
Electric Harpsichord
Mini Student Butterfly Piano
Rhodes 1946 Pre-Piano
Toy Piano — Classic
Toy Piano — Glock
Toy Piano — Grand
Toy Piano — Saucer Bell
Rhodes Piano Bass
Vintage Vibe Tine Bass
Weltmeister Basset I
Weltmeister Basset II
JD-800 Crystal Rhodes
MK-80 Digital Rhodes
MKS-20 Digital Piano
Harmochord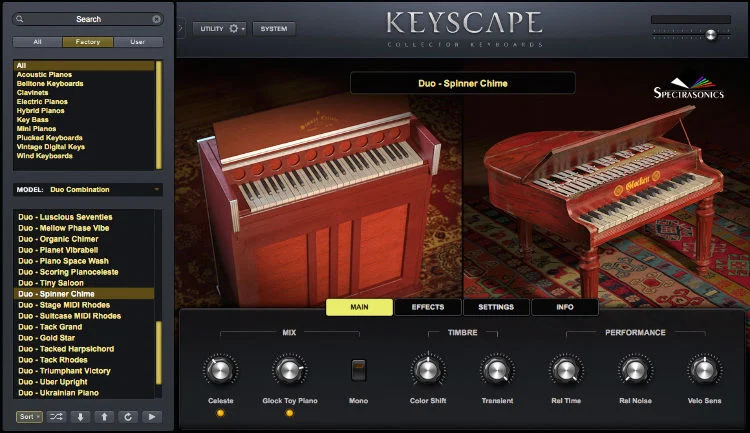 Spectrasonics Keyscape Collector Keyboards Features:
An exhaustive virtual keyboard instrument library
500+ world-class keyboard sounds
36 instrument models and hybrid "Duo Patches"
Deep multi-samples with up to 32-way velocity switching, round-robins, and more
Includes mechanical, pedal, and release noise behavior modeling
Patches feature authentically circuit-modeled amplifiers and FX
Optional 30GB Lite installation for onstage use (80GB normal installation)
Works in all major DAWs as a plug-in
Full integration with Omnisphere 2 as a satellite instrument
Boxed version ships with a credit-card-size flash drive
Spectrasonics Instruments Bundle 2023
Your review
* Review is required
Email
* Email is required
Add photos or video to your review