Packed with vintage goodness
u-he packed Repro-1 with all the goodness of the original synth that inspired it. It's sleek and intuitive, but under the hood there's a deep feature set that can deliver a broad palette of vintage analog synth sounds. You start off with two oscillators with sync: a saw/pulse and a saw/triangle/pulse; both with pulse-width modulation. The mixer includes a white-noise generator, plus a feedback path for bass that'll blow holes in walls. And you'll love the filter section: a classic 4-pole lowpass with self-oscillation, plus cutoff, resonance, envelope amount, and key tracking controls. And of course, there's a full ADSR filter envelope.
Modulation a go-go
Repro-1 serves up plentiful modulation options, with a saw/triangle/pulse LFO, plus a separate Mod section with Mod Filter envelope, Mod Oscillator B, And Mod LFO. There's an advanced arpeggiator and step sequencer that sync to clock or the main LFO. A very complete Glide section and Amp Envelope with curve trim complete the top panel proper. Below, you'll find the FX section that sports five stompbox-style modules: wavefolder/distortion, delay/chorus, EQ/resonator, reverb, and a sonic conditioner/dynamics processor. Talk about value — this thing comes loaded! If virtual analog synthesis plays a part in your music, you owe it to yourself to check out the u-he Repro-1.
u-he Repro-1 & Repro-5 Plug-in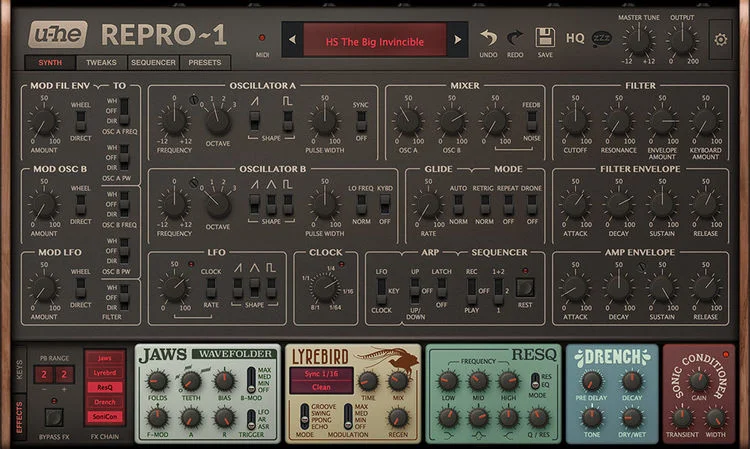 u-he Repro-1 Virtual Monosynth Plug-in Features:
Deep feature set delivers a broad palette of vintage analog synth sounds
Component-level model of a classic monophonic synthesizer
2 oscillators: saw/pulse and saw/triangle/pulse, with pulse-width modulation and sync
White-noise generator
Audio-generators mixer with feedback path for massive bass boost
4-pole lowpass filter with self-oscillation, plus cutoff, resonance, envelope amount, and key tracking controls
ADSR amp envelope with curve trim
Saw/triangle/pulse LFO, waveforms may be combined
Bonus modulation sources: AR/ASR envelope, plus Gate and Trigger
Arpeggiator: up or up/down, latch mode provided
2-pattern Sequencer with step recording, editable velocity and pitch, per-step note/tie/pause status, copy/paste and rotate functions, preset save/load
5 onboard FX: wavefolder/distortion, delay/chorus, EQ/resonator, reverb, sonic conditioner/dynamics processor
Patch from scratch or grab one of 500 killer presets
u-he Hive 2 Synthesizer Plug-in
With its sleek, single-screen interface, the u-he Hive synthesizer plug-in makes sound design easy. Hive's streamlined workflow welcomes you to tweak until your sound is perfect. Hive is light on your CPU, too, and won't bog you down while you're engaged in the creative process. In spite of being a lightweight synth, Hive is loaded with the heavyweight features, controls, and flexibility you need to forge amazing soundscapes. Whether you're into EDM, ambient, fusion, progressive rock, R&B – or any other music genre – take it from Sweetwater: u-he Hive delivers.
u-he Hive Synthesizer Plug-in Features at a Glance:
Single-page user interface
2,700 presets
2 main oscillators, 2 sub-oscillators
3 synth engine characters (Normal, Dirty, Clean)
Up to 16x unison per oscillator
2 multimode filters (LP, HP, BP, BR, or Peak)
Flexible oscillator and filter routing
Solo buttons for individual oscillators and filters
Arpeggiator and step sequencer
12-slot modulation matrix, 2 targets per slot
Drag & drop modulation assignment
Create, save, and load individual panel presets
7 quality effects, rearrange in any order
Global configuration overlays, including MIDI learn
Ramp up your sound design with u-he Hive!