Emulator II V
Looking for a down-and-dirty lo-fi sampler? The search stops with the Emulator II V. Inspired by a world-famous '80s-era multitimbral sampling icon, this virtual instrument delivers a familiar old-school sound — 8-bit vintage digital — at its finest. If you dig classic Depeche Mode, Pet Shop Boys, New Order, and Nine Inch Nails, you'll appreciate the delightfully flawed digital grit that you can coax out of Emulator II V. Anyone who's chasing the sound of the synth pop era needs Emulator II V in their library — period.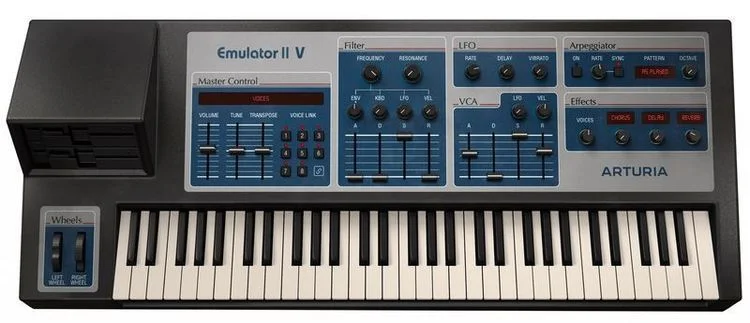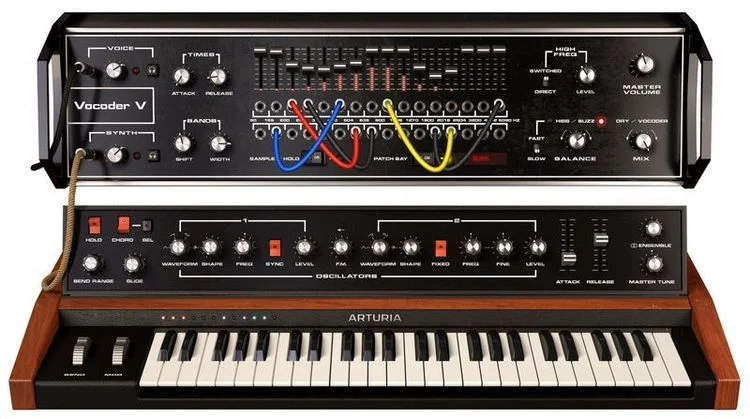 Vocoder V
Patterned after the iconic 16-band vocoder of yesteryear, Vocoder V ups the ante with advanced synthesis, sampling, and modulation capabilities. This VI is your secret weapon for those elusive Daft Punk-esque robotic vocal effects. That said, Vocoder V also has a harmonic-infused voice that's all its own, churning out cutting-edge formant textures that are guaranteed to elicit a sly smile from anyone who appreciates the attention-grabbing vocal shapeshifting sound that predated Auto-Tune-style effects. With Vocoder V in your toolbox, achieving Kraftwerk- and Herbie Hancock-style vocal effects will be easier than ever.
Jun-6 V
Arturia's Jun-6 V re-creates the DCO-fueled sound and legendary performance of a classic 1980s polysynth. Fire up Jun-6, and you'll be greeted by the colossal sound that gained favor with A-ha, Billy Idol, John Foxx, Eurythmics, Berlin, Cyndi Lauper, A Flock of Seagulls, Wham!, and many other chart-topping artists during the synth pop and new wave eras. Jun-6 includes its hardware predecessor's world-renowned ensemble effects, as well as its mind-bending arpeggiator. Best of all, this state-of-the-art virtual instrument has been optimized and enhanced to meet the demands of modern synth-based artists.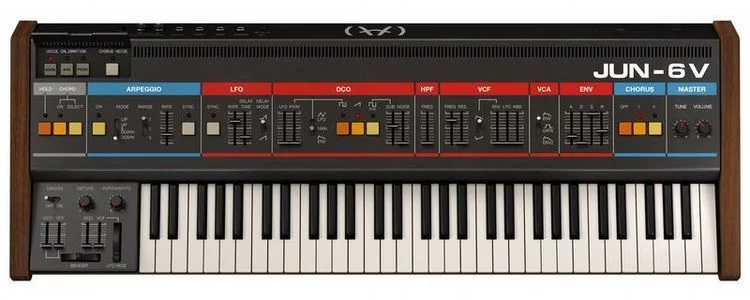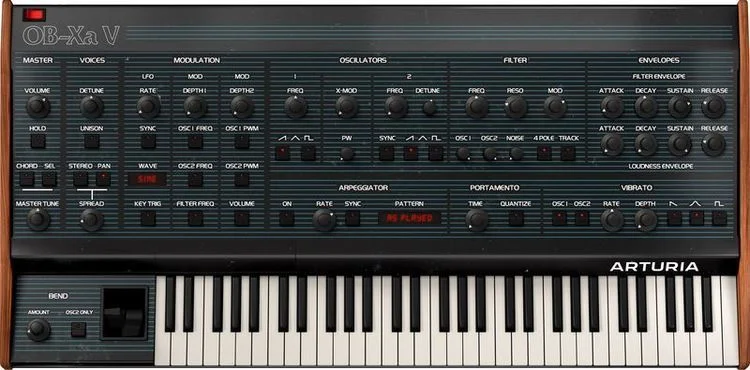 OB-Xa V
Synthesizers exploded in the 1980s, and the OB-Xa was right there in the thick of it with its distinctive fat, aggressive-sounding growl. The Arturia OB-Xa V is a spot-on emulation of that analog classic, and it includes a few new tricks as well. This virtual instrument boasts 16-note polyphony — enough for large arrangements. And its stereo spread feature is as immersive as all get out. Its built-in arpeggiator is tailor-made for creating patterns and melodies, while an ultra-flexible LFO injects your sound with movement and excitement. You'll dig all the sound-shaping features in this VI's oscillators section, while a bevy of onboard effects provides access to a myriad of colorful sonic textures. Complete with 400-plus presets to get you started, Arturia's OB-Xa V puts the sound of a legendary analog synthesizer right at your fingertips.
Jup-8 V4
The Arturia Jup-8 V puts the storied synth of the '80s into your hands. Powered by Arturia's TAE engine, the Jup-8 V features more than 400 high-quality presets, an advanced step sequencer, analog and digital effects, and a Galaxy module that lets you program two LFOs at once. External MIDI controller setup is quick and easy, and the Arturia Jup-8 V is fully compatible with Mac and Windows, supporting VST, AU, AAX, and also standalone operation. If you've lusted after the original synth, or you're simply looking for an awesome software synth to bring a little bit of '80s magic into your sound, you'll love Arturia's Jup-8 V.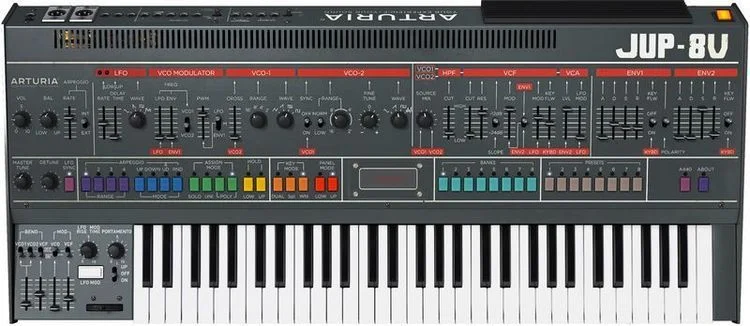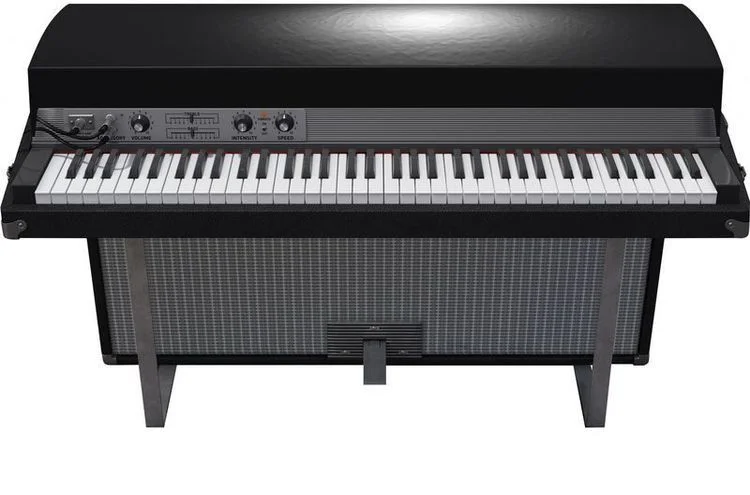 Stage-73 V2
When the physical modeling gurus at Arturia decided to capture the sound of the Rhodes electric piano in its prime, they absolutely nailed it with the Stage-73 V electric piano virtual instrument. Stage-73 V captures three classic mid-'70s Rhodes models in stunning detail, but that's just the beginning. You can go under the hood to tweak parameters such as hammer hardness, tone bar resonance, and pickup alignment, offering a custom shop worth of mods. Of course, it wouldn't be an authentic Rhodes sound without the popular vintage guitar amp to go with it, so Arturia modeled that as well, along with a collection of classic stompbox effects. For anyone who loves classic EPs, the Stage-73 V is an aural treat like no other.
And more …
In V Collection 8, Arturia has included numerous updates, including reworked Stage 73 and Jup-8 instruments. You also get an overhauled Analog Lab, which boasts an improved interface, tweaked instrument and preset browsing, enhanced effects performance, and a bevy of Arturia-curated presets. Hundreds of new V Collection 8-exclusive presets are on tap for every instrument, both old and new. The bundle's overhauled browsing interface offers streamlined, focused navigation, while new control macros for every instrument make deep-diving easy and fun. Finally, refreshed in-app tutorials get you up and running fast. Whether you're a modern music producer, synth aficionado, or composer, Arturia V Collection 8 is a must-have. At Sweetwater, we've found that it offers an elevated musical experience — it's a real wellspring of inspiration!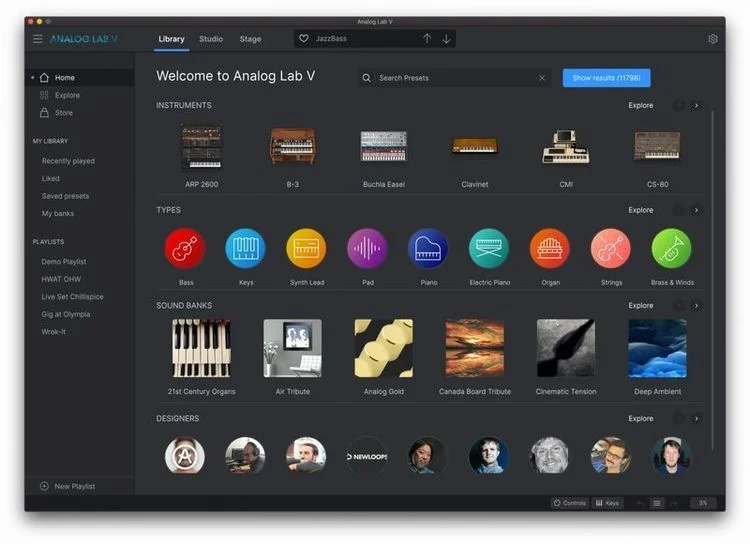 Arturia V Collection 8 Software Instrument Bundle Features:
More than 8,000 sounds from 28 essential classic software keyboards
4 new instruments: Jun-6 V, Emulator II V, Vocoder V, and OB-Xa V
2 refreshed instruments: Stage 73 V2 and Jup-8 V4
Major Analog Lab V update with 2,000 presets, intelligent browsing, easy mixing and layering, and a redesigned user interface
V Collection 8-exclusive presets for every instrument — old and new
Overhauled browsing interface offers streamlined, focused navigation
New control macros for every instrument make deep diving easy and fun
Refreshed in-app tutorials get you up and running fast