iZotope Neoverb (Windows)
Product Description
Tech Specs
Software Type:

Reverb

Platform:Windows

 Only

Upgrade/Full:

Full

Download/Boxed:

Download

Bit Depth:

64-bit

Format:

AAX, VST2, VST3, AU

Manufacturer Part Number:

NVRB_RD
Studio-grade Reverb with AI-assisted Processing
Neoverb combines studio-grade Exponential Audio algorithms with iZotope's cutting-edge AI-assisted processing to give you an ultra-powerful, ultra-versatile reverb plug-in. Create complex, customized reverbs for any track with Reverb Assistant. Craft unique amalgams of early reflections, rooms, plates, chambers, and halls with Neoverb's Blend Pad. Achieve amazing-sounding reverbs without long plug-in chains, thanks to a formidable EQ section with AutoCut and Unmask functions. You also get a Masking Meter that boasts inter-plug-in communication with other iZotope plug-ins, and experienced engineers will appreciate Neoverb's Advanced Panel, which enables comprehensive tweaking of your reverb parameters. To top it off, Neoverb includes input smoothing and modulation effects for adding final special touches to your reverbs. A resizable interface and pro-designed presets round out iZotope Neoverb's robust features.
Creating a great-sounding reverb that sits perfectly in your mix can be a time-intensive endeavor. That's not the case with Neoverb. Courtesy of its Reverb Assistant, you can craft multifaceted reverbs that are tailor-made for your application without wasting time wading through mile-long menus. Reverb Assistant is incredibly easy to use. First, while you find your desired sound using Neoverb's streamlined interface, the plug-in selects and blends reverb combinations and advanced settings in real time. After that, you fine-tune your space with the Size slider, unleashing everything from tight, confined areas to spacious, cavernous arenas. Then, you choose between four different Tone selections to give your reverb the vibe you're aiming for. And when you're finished, Reverb Assistant makes additional EQ suggestions to ensure a super-clean sound. Want to take a deep dive? No problem. Neoverb's Advanced Panel gives you access to an array of parameters that unlock a myriad of inspiring spaces for you to explore.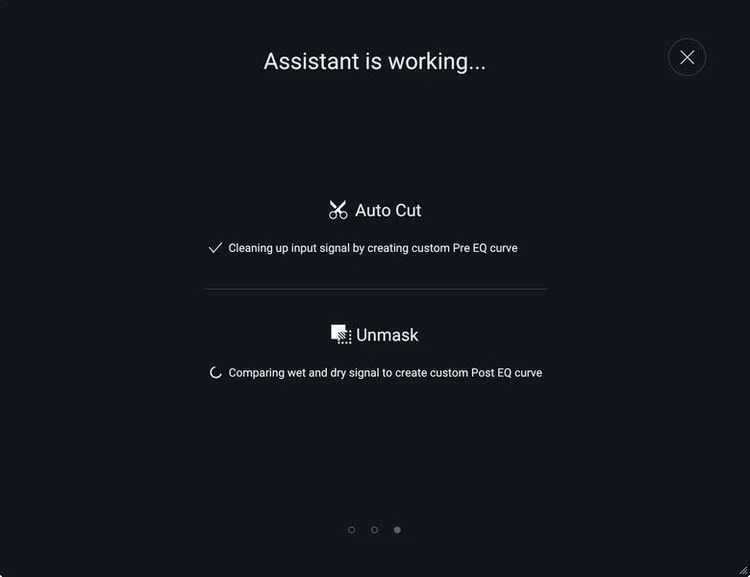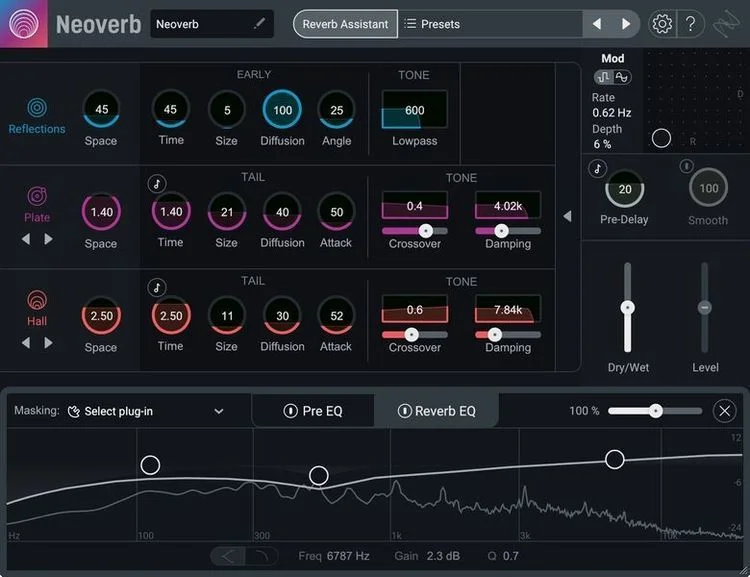 Build multifaceted reverbs with Neoverb's Blend Pad
iZotope Neoverb makes building multifarious reverbs super simple. Its innovative Blend Pad allows you to visualize and mix three different reverb algorithms simultaneously. Once you fire up Neoverb, you'll spend hours melding unique amalgamations of early reflections, rooms, plates, chambers, and halls. The full gamut of realistic spaces, classic environments, and breathtaking ambient textures will be firmly within your grasp. Neoverb also includes separate Size controls for each reverb type, enabling you to construct epic guitars, vast drum rooms, and exotic, otherworldly places for your music to live in. We had a blast running Neoverb through its paces here at Sweetwater. We especially enjoyed automating its parameters in a DAW, which created spaces that morphed, moved, and blended with the music.
Achieve great sound with a fluid EQ section and Masking Meter
Getting a great reverb sound with Neoverb is as effortless as can be. And by virtue of this reverb plug-in's AI-powered EQ section, you don't need a long chain of plug-ins to make it happen. Neoverb's AutoCut function is invaluable, intelligently suggesting EQ moves to keep your input signal clean before you even think about adding reverb. A Smoothing control evens out your track's dynamics, thereby avoiding distracting artifacts. Neoverb's Unmask feature is essential to getting a pro-quality result, ensuring that your reverb doesn't overwhelm your mix. On top of that, you get a Masking Meter that deploys iZotope's renowned inter-plug-in communication to indicate where your reverb is masking other tracks. With Neoverb in your toolbox, you don't need exhaustive corrective EQ, ceaseless fine-tuning, and a spectrum analyzer to craft a pristine, mud-free mix.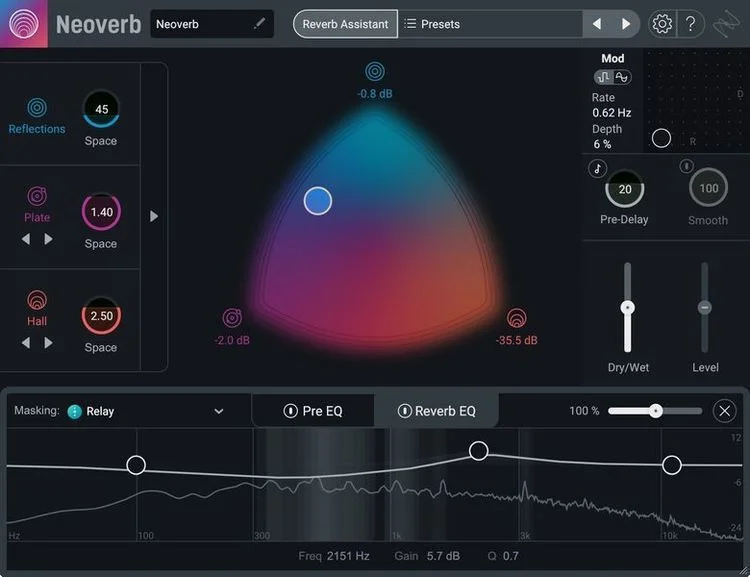 iZotope Neoverb Features:
Reverb Assistant uses AI-assisted processing to create complex, customized reverbs for any track
Blend Pad crafts unique amalgams of early reflections, rooms, plates, chambers, and halls
Formidable EQ section achieves amazing-sounding reverbs without long plug-in chains
AutoCut function suggests EQ moves to keep your input signal clean before you add reverb
Smoothing control evens out your track's dynamics, thereby avoiding distracting artifacts
Unmask feature ensures that your reverb doesn't overwhelm your mix
Masking Meter deploys inter-plug-in communication to indicate where your reverb is masking other tracks
Modulation adds lushness and depth to your reverb
Resizable interface accommodates your screen size and workflow
Pro-designed presets give you a sizable cache of application-specific starting points
iZotope Neoverb (Windows)
Your review
* Review is required
Email
* Email is required
Add photos or video to your review