Arturia FX Collection 3 Plug-in Bundle (Windows)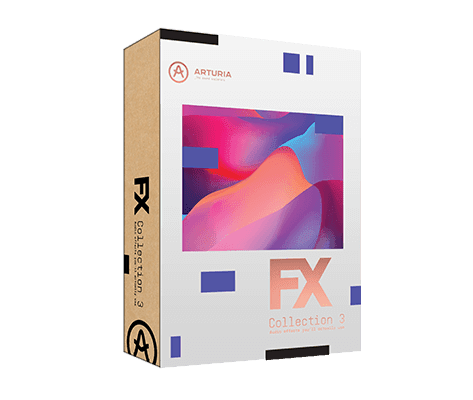 Product Description
Tech Specs
Software Type:

Effects and Production Bundle

Platform:

M, PC Only

Upgrade/Full:

Full

Download/Boxed:

Download

Bit Depth:

64-bit

Format:

AAX, VST, VST3, AU, Standalone, NKS

Hardware Requirements – PC:

Quad-core 3.4GHz processor or higher, 4GB RAM or more

OS Requirements – PC:

Windows 8.1 or later

Manufacturer Part Number:

700301_Down
What's new in FX Collection 3…
4 brand-new effects: Dist Opamp-21, Dist Tube-Culture, Efx Fragments, and Tape Mello-Fi
New A/B tool for fast comparisons of different settings, presets, etc.
An updated user interface with lower load times and a streamlined preset browser
Apple M1 processor compatibility
Oversampling modes in Dist Opamp-21 and Dist Tube-Culture
All paired with classic Arturia effects and features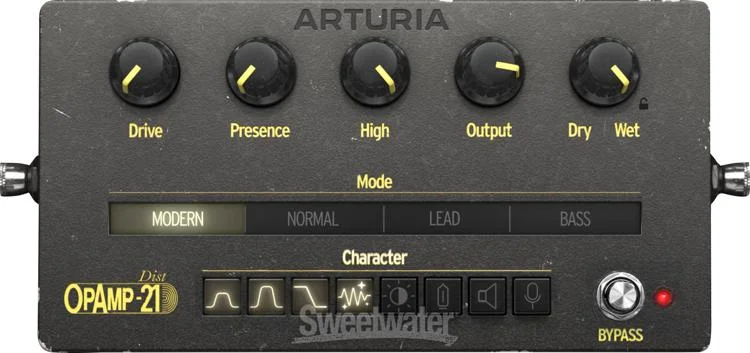 Meet the new effects
Dist Tube-Culture: modernized valve saturation at your fingertips; packed with harmonic life and additional option for oversampling
Dist Opamp-21: rich audio saturation inspired by a classic "go direct" guitar pedal; fuses rich harmonics with high-gain crunch and an additional option for oversampling
Efx Fragments: ultra-modern texture fragments like glitchy stutters, grainy stereo ambience, and more with powerful granular processing featuring a high degree of customization options
Tape Mello-Fi: get vintage tape-aged warmth and nostalgic textures fast; this versatile effect features preamp, modulation, and filter/output controls for customizable lo-fi vibes
Masterful bus FX
Put a final polish on stereo stems and your full mix with Arturia's triple-threat of bus FX: Bus Force, Comp Diode-609, and EQ Sitral-609.
Bus Force: Arturia-original parallel processor, featuring discrete filter, EQ, compressor, and saturation modules
Comp Diode-609: faithful emulation of a legendary bus compressor with a crunchy, vintage character
EQ Sitral-609: musical stereo EQ based on a renowned 1970s broadcast console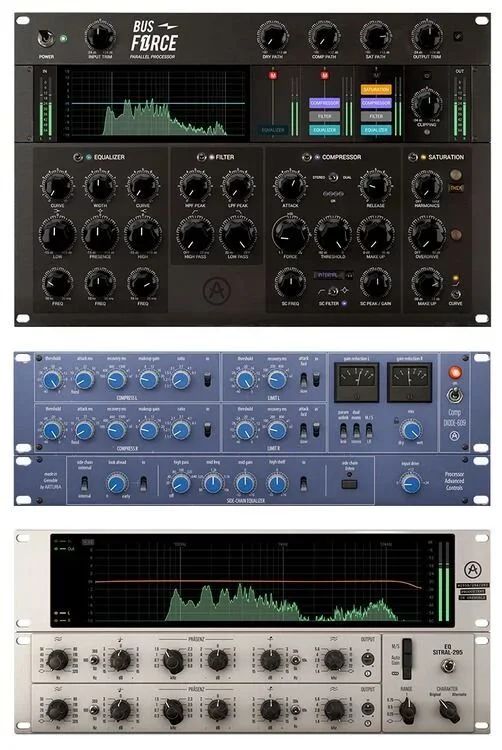 Powerful Modulation
Modulation effects can take your tracks from bland to bodacious, and the Arturia FX Collection has four formidable modulators on tap: Chorus Dimension-D, Phaser Bi-Tron, Flanger BL-20, and Chorus Jun-20.
Chorus Dimension-D: warm BBD-style chorus with a simple 4-mode operation
Phaser Bi-Tron: definitive dual phaser guitar pedal with advanced routing features
Flanger BL-20: otherworldly modulator modeled on a cult classic rackmount flanger
Chorus Jun-20: ultra-lush chorus from an iconic 80s analog synth
Spatial reverbs
Reverb effects are vital for giving your mix a sense of space, in addition to being an integral ingredient for ambient sound design. The Arturia FX Collection brings you three vibey reverb effects: the vintage-inspired Rev Plate-140 and Rev Spring-636, and the ultra-modern Rev Intensity.
Rev Plate-140: the smooth, rich sound of a 1970s studio-staple plate reverb
Rev Spring-636: vibrant spring reverb inspired by a 1960s unit favored by Pete Townsend and Lee "Scratch" Perry
Rev Intensity: innovative modern reverb for experimental music makers and sound designers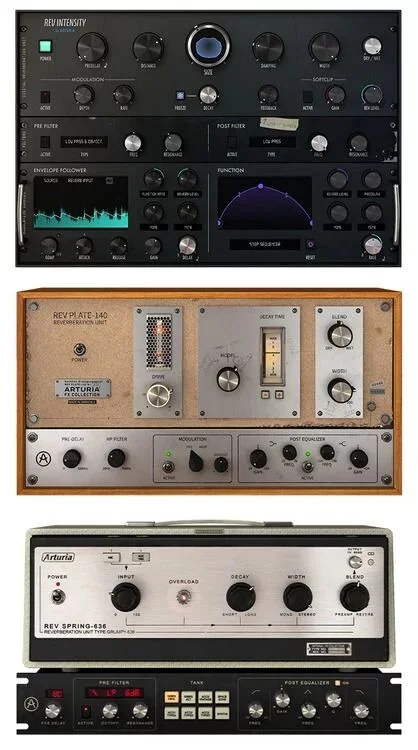 Contemporary and classic delays
From subtle slaps to swirling washes of ping-ponging repeats, Arturia's Delay Eternity, Delay Tape-201, and Delay Memory-Brigade offer a full arsenal of echo effects.
Delay Eternity: creative, versatile, and feature-rich contemporary delay for advanced sound design
Delay Tape-201: gritty and atmospheric tape-style delay with multiple preamp options
Delay Memory-Brigade: dark, modulated stereo delay, featuring an envelope follower, assignable LFO, and ping-pong mode
Essential filters
The Arturia FX Collection empowers you to shape any sound source with three feature-packed filter sections modeled from three celebrated synthesizers: the Filter Mini, Filter Sem, and Filter M12.
Filter Mini: the world's most famous 24dB per octave ladder-diode filter
Filter Sem: coveted multimode filter with 16-step gate sequencer and noise oscillator
Filter M12: groundbreaking 1980s filter module, boasting 15 distinct filter modes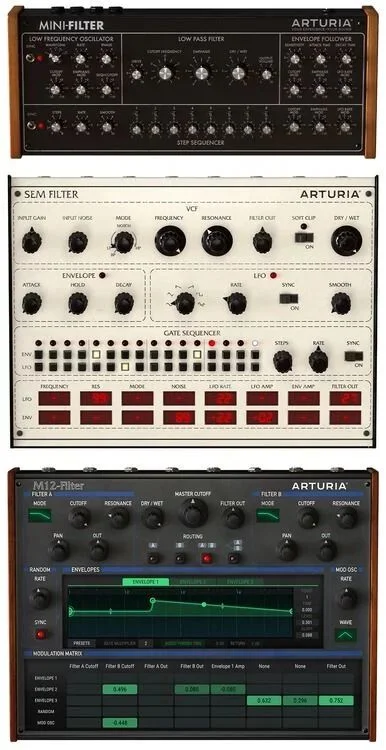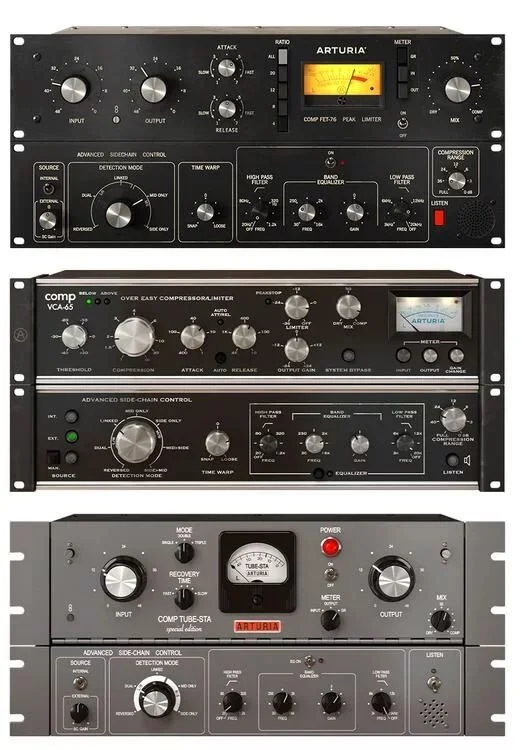 Compressor classics
Control your dynamics and add some old-school character with Arturia's impeccably modeled trifecta of compressors: the Comp FET-76, Comp VCA-65, and Comp Tube-STA.
Comp FET-76: stunning emulation of the ubiquitous workhorse studio compressor
Comp VCA-65: accurate reproduction of a famous voltage-controlled compressor design
Comp Tube-STA: creamy, transparent tube-style compression for larger-than-life vocals, bass, and drums
Analog preamps
Analog console preamps are treasured for their ability to impart recordings with subtle harmonic saturation, enhanced mid-range punch, and thick, focused low end. The Arturia FX Collection delivers three sonic marvels based on revered studio classics.
Pre V76: the sound of an iconic vintage tube console with an unmistakable tone and germanium EQ
Pre TridA: splendid, musical EQ and the rich, full A Range tone, along with intuitive control
Pre 1973: characterful mic preamplification and punchy "British" inductor EQ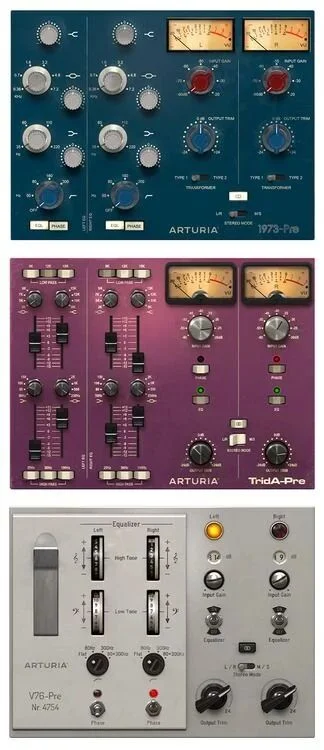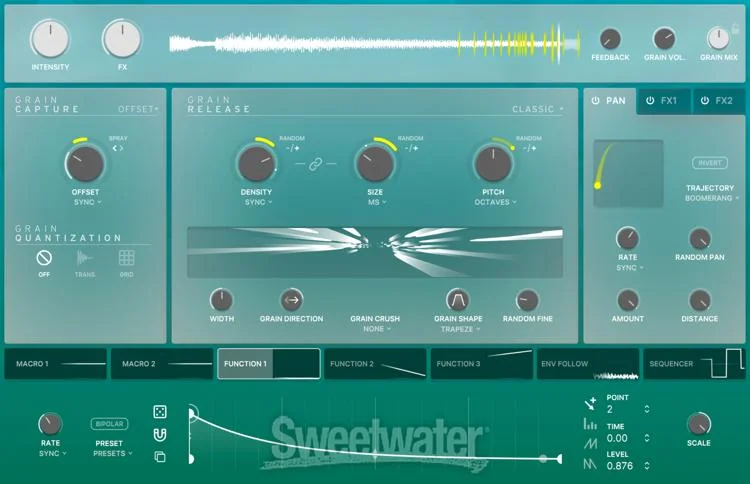 Arturia FX Collection 3 Features:
Collection of 26 versatile audio production plug-ins
Blends emulations of classic studio hardware with modern digital effects for a variety of options and tools
Effects include saturation, granular, mix bus, modulation, compression, delay, reverb, preamps, filters, and more
4 brand-new effects in this collection: Dist Opamp-21, Dist Tube-Culture, Efx Fragments, and Tape Mello-Fi
250+ presets for jumpstarting creativity with tried-and-true effects
New oversampling modes in Dist Opamp-21 and Dist Tube-Culture for immaculate sample captures
New A/B tool for fast comparisons of different settings and presets
A new user interface keeps load times low and browsing presets easier than ever before
Built-in tutorial and tips for shrinking the software learning curve
Map parameters to your favorite MIDI controller for more hands-on tweaking
FX Collection 3 is NKS-ready and optimized for Apple M1 processors
Standalone, VST, AAX, AU, NKS
Compatible with most major DAWs
Up to 5 computer authorizations per purchase