UJAM Finisher NEO (Genuine License) (MAC-Windows)
Product Description
Tech Specs
Software Type:

Drum Library

Platform:

Mac, PC

Upgrade/Full:

Full

Download/Boxed:

Download

Bit Depth:

64-bit

Format:

AAX, VST2, AU2

Hardware Requirements – Mac:

Intel Core 2 Duo or higher, 4GB RAM minimum

Hardware Requirements – PC:

Intel Core 2 Duo / AMD Athlon 64 X2 or higher, 4GB RAM minimum

OS Requirements – Mac:

OS X 10.11 or later

OS Requirements – PC:

Windows 7 SP1 or later

Manufacturer Part Number:

FIN-NEO
Morph Ordinary Sounds into Showstopping Elements
Be prepared for your creativity to blast off into the stratosphere with UJAM Finisher Neo. It's the perfect tool to explore new sonic frontiers with shimmering reverbs, breathtaking modulation, gritty distortion, and much more. The streamlined 5-knob interface and 50 presets make Neo easy to use — no matter your experience level! For quick results, select a preset, then use the large central knob to dial up the intensity you need — it's that simple. Want pinpoint control? The four macro knobs bring the heat and a wealth of sonic diversity! We applied UJAM Finisher Neo's sonic alchemy to synths, pads, and bass lines when we demoed it here at Sweetwater. It transformed the once ordinary sounds into unforgettable tracks with ease.
Complex effects chains have never been this easy to use
UJAM designed Neo to deliver the intensity and versatility of an arsenal of outboard gear without any headaches. As a result, Neo features a stripped-back user interface and 50-plus user-friendly presets. There are 27 premium effects that await action with chorus, reverb, distortion, and untold types of modulations under the hood.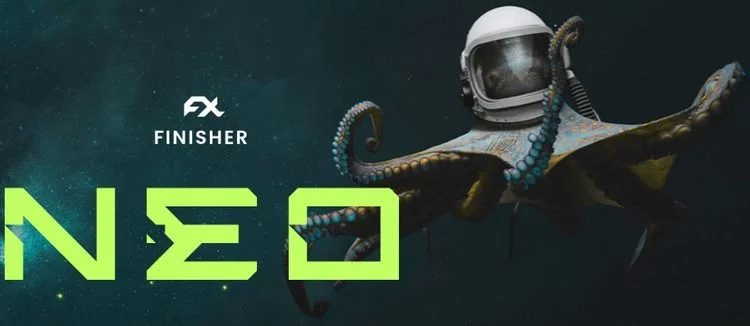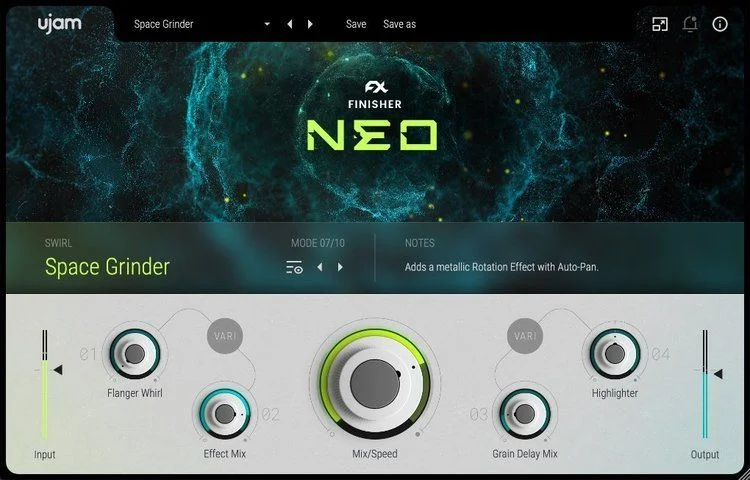 The "magic knob"
Finisher Neo's defining feature is the large "magic knob" that sits front and center. Depending on the preset you use, it controls slightly different parameters and has a big impact on the overall tone. While you can adjust the other parameters individually, Sweetwater has found that adjusting the main knob is usually sufficient to get the job done fast. Transform your pads into expansive, shimmering masses or morph a dull bass line into something out of the post-apocalyptic world of Mad Max. The central "magic knob" yields satisfying results without fail.
Macro controls enable endless tone tweaking
There's a lot of potential waiting within Finisher Neo by just using presets and the central knob. But when you engage the four individual macro knobs — Flanger Whirl, Effect Mix, Grain Delay Mix, and Highlighter — you get nearly limitless control over every effect. If you really want to fine-tune your final sound, then these controls are where it's at.
UJAM Finisher Neo Features:
Multi-effects plug-in with 50 effects configurations
Pushes tracks to the next level with vibrant textures
Boasts 27 effect algorithms with choruses, distortions, reverbs, modulations, and much more
Mix/Speed knob adjust the effect's intensity
Simple interface is accessible to users of all experience levels
4 macro controls — Flanger Whirl, Effect Mix, Grain Delay Mix, and Highlighter — offer more sound shaping