iZotope RX 9 Advanced (MAC)
Product Description
Tech Specs (M1/M2 Supported)
Software Type:

RX 9 Advanced

Platform:

Mac, only

Upgrade/Full: full
Download/Boxed:

Download

Bit Depth:

64-bit

Format:

AAX, VST2, VST3, AU

Hardware Requirements – Mac:

Intel Core 2 Duo or higher, 4GB RAM minimum

OS Requirements – Mac:

macOS 10.13.6 or later

Manufacturer Part Number:

70-RX9ADV_UPRXEL
Pro-level Audio Restoration Software
Forensic audio experts and post-production engineers need powerful tools. That's why critical projects demand iZotope RX Advanced. Like a photo editor, RX Advanced paints away buzz, clicks, hiss, and more with a single mouse gesture. It's a must-have — and version 9 ups the ante with a bevy of new features. Spectral Editor employs Audio Random Access (ARA) to put Spectral Repair directly inside of Apple Logic. Now you won't need to leave your DAW to remove or repair noises in your dialog and instrument tracks. Revert/Restore enables you to roll back a selection to its previous or original unprocessed state. This makes fine-tuning over-processed sections of audio a breeze — a must-have option after applying blanket processing to long files. You also get improved De-hum, Ambience Match, and Dialogue Isolate tools. Beyond that, you get the AI-assisted processing that RX is renowned for. Enhance. Restore. Repair. If it's broken, RX 9 Advanced can fix it.
iZotope RX 9 Advanced is loaded with powerful restoration tools
Spectral Editor employs Audio Random Access (ARA) to put Spectral Repair directly inside of Logic.
Revert/Restore enables you to roll back a selection to its previous or original unprocessed state.
Guitar De-noise tightens up noisy guitar recordings.
Batch Processor enables you to process several files in one pass.
Music Rebalance grants you independent gain adjustment of the elements of a mix — after it's already mixed.
Repair Assistant uses machine learning to solve common audio issues faster than ever.
De-hum removes ground-loop hum and line noise.
Loudness Control prepares your recordings for final delivery with detailed level readings and loudness management.
Variable Time adjusts the time stretch amount of an audio selection without altering its pitch.
Variable Pitch adjusts the pitch of an audio selection while preserving its time and length.
Composite View removes unwanted sounds captured with multiple microphones by editing multiple files at once.
Mouth De-click gets rid of distracting mouth noises.
Spectral De-ess transparently attenuates sibilance with iZotope's spectral shaping technology.
De-bleed eliminates headphone bleed from acoustic guitar tracks, removes click track bleed from vocal takes, and solves other signal bleed problems.
Spectral Repair visually paints away audio problems like ringing cell phones, birds, and squeaky bass drum pedals.
Voice De-noise is fine-tuned for vocals, reducing unwanted steady-state or changing background noise like air conditioning, refrigerator hum, and amp hiss.
Breath Control attenuates distracting breaths between words and phrases.
De-plosive repairs unwanted plosives with a single click.
Spectral De-noise reduces amp buzz, tape hiss, and other unwanted steady-state background noise.
De-click cleans up vinyl clicks, softens up clicky bass guitars, and more. A new low-latency algorithm enables you to use De-click directly within your DAW or NLE without introducing sync issues.
De-clip patches up digital and analog clipping artifacts to restore distorted audio.
As well as these exclusive Advanced-only features:
Spectral Recovery restores clarity to internet-compressed audio.
Wow & Flutter corrects pitch fluctuations from physical audio recordings.
Dialogue Contour reshapes the intonation and inflection of a dialog track.
Dialogue De-reverb removes unwanted ambience from dialog clips.
De-rustle eliminates lavalier mic rustle from dialogue with a single click.
Dialogue Isolate extracts dialogue from loud environments with background sounds like clanging plates in a restaurant, traffic noise, and machinery.
De-wind removes low-frequency wind rumble from location dialogue.
Ambience Match fills in the constant background noise under constructed sentences and ADR lines.
EQ Match imparts the EQ profile of one file to another, great for matching ADR to location dialogue.
Enhanced options for audio pros
RX 9 Advanced is a worthy update. It makes restoring clarity to internet-compressed audio like remote meetings, podcast interviews, video calls, and real-time audio streaming a breeze, thanks to Spectral Recovery. Effortlessly correct pitch fluctuations from physical audio transfers from vinyl and cassette with Wow & Flutter. Recovering a dialog performance is easier than ever with Dialogue Contour. Remove unwanted ambience from dialog tracks with Dialogue De-reverb. De-rustle eliminates lavalier mic rustle from dialog. Dialogue Isolate — now at version 2.0 — can remove complex noises in a single pass, while preserving underlying ambience for ultra-clean results. De-wind, which removes low-frequency wind rumble from location dialog. Ambience Match — also at version 2.0 — can capture real background movement and texture. This cutting-edge module can now match scenes featuring pouring rain, screaming crowds, and crashing ocean waves with ease. EQ Match creates consistent sonics between two different dialog recordings. On top of that, RX Advanced supports multichannel audio up to Dolby Atmos 7.1.2, making it an indispensable tool for post-production and video game projects.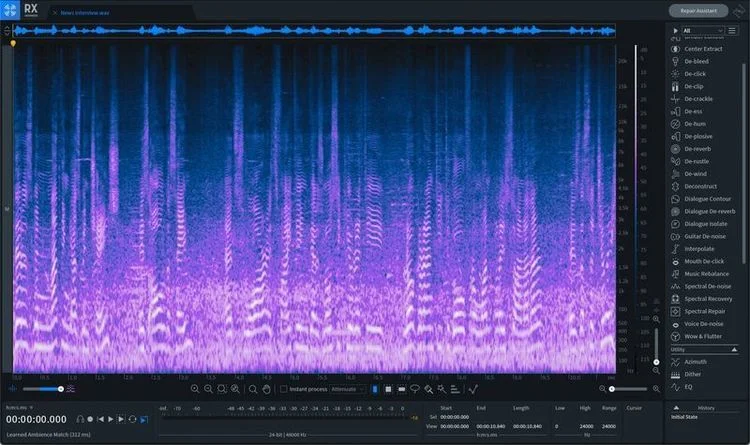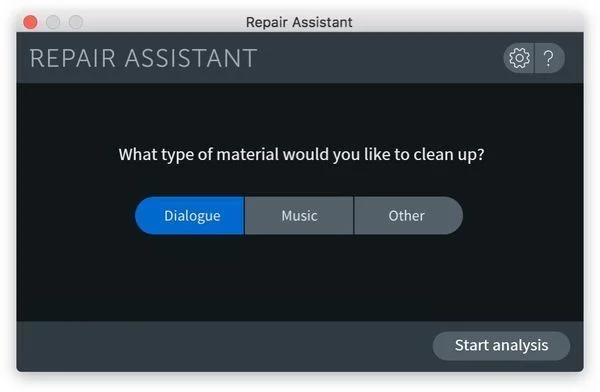 Repair Assistant makes audio restoration easier than ever
The engineers here at Sweetwater will tell you: audio restoration is a time-intensive endeavor. But not anymore! RX Advanced's Repair Assistant makes short work of clipping, clicks, and more without the usual tedious trial-and-error workflow. All you need to do is select the type of material, be it music, dialog, or other, and let RX Advanced analyze the audio. It then gives you processing suggestions to point you in the right direction, along with three different intensities for each. You then review and audition the different suggestions, hit render, and you're good to go.
Music Rebalance gives new meaning to "fix it in the mix"
Mastering a badly mixed song is an uphill battle. Now, thanks to RX Advanced, that's no longer the case. Its Music Rebalance tool allows for independent gain adjustment of vocals, bass, percussion, and other elements of a mix — after the project has been mixed. Drums too loud? Vocals not loud enough? Music Rebalance allows you to fix these and other similar problems. Beyond that, you can export these individual elements as stems for further processing and mixing. Music Rebalance is also available as an AudioSuite plug-in.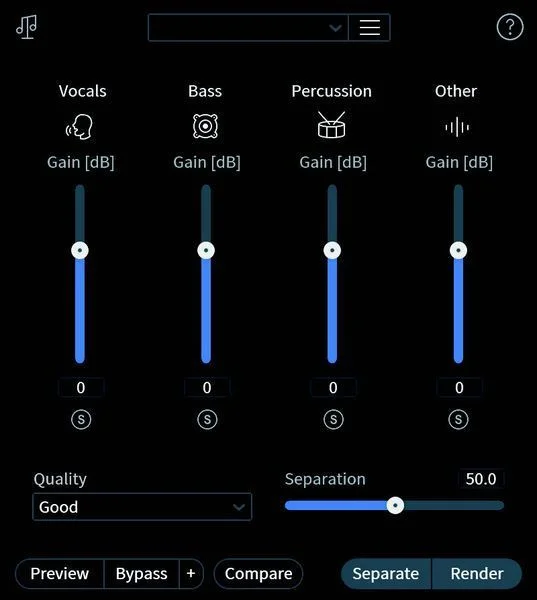 iZotope RX 9 Advanced Features:
NEW Spectral Editor employs Audio Random Access (ARA) to put Spectral Repair directly inside of Logic
NEW Revert/Restore enables you to roll back a selection to its previous or original unprocessed state
NEW Overhauled De-hum removes hum, buzz, and wireless interference at any frequency quickly and easily
NEW Ambience Match 2.0 can capture real background movement and texture
NEW Dialogue Isolate 2.0 can remove complex noises in a single pass, while preserving underlying ambience
Pro-level audio restoration and repair tools for forensic audio experts and post-production engineers
Paints away buzz, clicks, hiss, and more with photo editor-like mouse gestures
Repair Assistant employs AI to make fixing damaged audio easier than ever
Music Rebalance separates mix elements and exports them as stems for re-mixing
Dialogue Isolate, De-rustle, Music Rebalance, and Breath Control available as AudioSuite plug-ins
Multichannel support up to Dolby Atmos 7.1.2
iZotope RX 9 Advanced (MAC)
Your review
* Review is required
Email
* Email is required
Add photos or video to your review