Complete Orchestral Collection
You Must Purchase Kontakt Pro From Us To Install & Use This Library In Full Version Click Here
Full Version
Library Size 18.2GB
Instant Download
Lifetime Activation & Access To Download
View More
Product Description
An extremely versatile inspiring tool for every composer, arranger and producer at an extremely convenient price.

Complete Orchestral Collection is a brand new compilation of all Peter Siedlaczek libraries ever released by Best Service. This new product combines Peter Siedlaczek´s String Essentials 2nd Edition as well as the well known Complete Classical Collection 2nd Edition in one Kontakt Player 5 instrument with 26 GB of uncompressed sample content and more than 2800 Kontakt instruments.
As a special bonus we added String Tools – a collection of newer released chords, excerpts and moods from an almost forgotten secret project.
Enjoyable and easy to use thanks to the advanced capabilities of Kontakt Player. Complete Orchestral Collection is the most affordable and comprehensive collection of the finest classical sounds, classical choir, strings, woodwinds, brass, percussion, harp, mallets, piano, prepared piano, ready to use orchestral excerpts, performances and effects.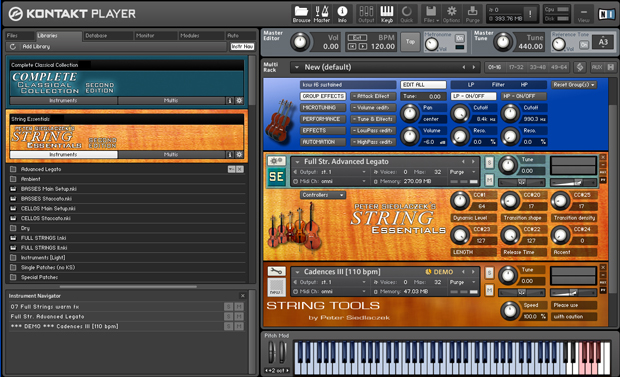 UPGRADE available for registered users of Complete Classical Collection or String Essentials!
STRING ESSENTIALS
This comprehensive, thought through and ergonomic virtual string orchestra could not have been realised without today's computer and sampler technology. In its carefully programmed patches you will find many innovative solutions, to help achieve your music goals even more quickly. The result is a spontaneous, playful and intuitive handling of the sound material. With a unified key switch system and direct, instant access to all the important articulations. Including quintuple alternation switch (Staccato, Quarter Notes) and precise control of the dynamic response of the samples using different MIDI parameters. String Essentials will enable you to focus on the most essential part of your activity – your music – creatively and easily. Just load and play it! New great sounding samples in 5 different lengths, 3 or 4 dynamic levels, runs and natural release samples were carefully recorded using 3 microphone placements: close (dry), normal and ambient. You choose the best sound for your music. Including Surround ! Peter Siedlaczek did his best to use the power of Native Instruments´ Kontakt Sampler down to the last detail. The result is a complex, yet easy-to-use musical instrument which you will play with enthusiasm and enjoyment!
Features
14 violins, 10 violas, 8 cellos & 6 double basses
spontaneous, playful and intuitive handling
thought-out, innovative solutions
complex, yet convenient and ergonomic patches
completely new material recorded with three different mic set-ups, providing ambient, normal and dry samples
Kontakt Player included (version 5.1.0 required)
works as a plug-in in any standard or as a stand-alone application
12 GB of great sounding samples in 5 lengths and 3 or 4 dynamic layers
immediate access to nearly all the playing techniques via key switches
fast and convenient sample character shaping using midi controllers (Accent, Expression, Crescendo Time, Portamento Depth/Time, Tempo, Run Shift, Release Time, Release Off, etc.)
more realism with run and ornamentation tools
release trigger
multiple alternation switching
from double to quintuple
surround
Just load and play it!
COMPLETE CLASSICAL COLLECTION
Thanks to the all-new Kontakt engine, Complete Classical Collection has amazing new possibilities. Almost every important function can be accessed via the script engine, and every important control can be activated and remote-controlled. Kontakt's engine is built like a semi modular synthesizer, and gives you the possibility to drastically manipulate sounds.
The completely script based user interface allows almost all important parameters to be controlled with the Automation-user interface. Complete synthesis unit with filter, LFO and effect section. Tempo, length and pitch of parts of the loops and phrases can be varied with the Time Machine. You can play the instruments with BreathControl or any other controller. The Dual-Harmonize function allows you to create any desired interval combination. Together with the Microtune-function you can easily create arabic/oriental/exotic tunings. Use the Humanize-function for subtle tone changes, and each note will sound a little bit different. The Legato-function lets you create great sounding legato lines. The Attack-function puts additional accents on any desired timbre. With this function you get smoother transitions from staccato to sustained notes, because the accent can seamlessly blend in and vary the sound.
Content
Advanced Orchestra
This very complex yet compact and user-friendly sound library sets new standards for symphonic samples. Enjoyable and easy to use with expanded capabilities thanks to the advantages of the newest software developments. Extensive use of key switching and direct-from-disk technology. New programs with multiple layers and instantaneous access to dozens of instruments and playing techniques. This library contains Solo- & Ensemble Strings, Solo- & Ensemble Brass, Solo- & Ensemble Woodwinds and Harp with comfortable access to different articulations and performances, as well as a huge percussion section with many additional instruments. Sounds which have proven themselves in countless music productions worldwide.
Classical Choir
Peter Siedlaczek´s 5star winning "Classical Choir". Just when you thought it couldn´t get better, it did! This section contains over 100 singers, sampled at each semitone from aaa to zzz, men, women, mixed choir, bass, tenor, alto, soprano. Fantastic falls, swells and choir voice effects. Whether you want a perfectly realistic choral sound or you are creating new sounds, these samples provide the user with perfect material to work with.
Orchestral Colours
Peter Siedlaczek´s, Orchestral Colours created a new trend – the use of prepared, skilfully arranged orchestral building blocks. The result is a colourful mixture of hits, finales, passages, layers, atmospheres – a collection of "mini-works" which are playable in any key! The incredible tonal richness of a symphony orchestra, its expressiveness, dynamic, or its "power", makes it the most mighty and versatile body of sound. No wonder that orchestral sounds became an obligatory part of every collection of samples.
Smart Violins
Another of Peter Siedlaczek´s unique sample libraries: A comprehensive collection of runs, licks and other patterns, as well as long notes and legato steps played at different intervals, performed by a large violin ensemble. Outstanding construction tools for creating perfectly realistic runs and melodic lines playable in all keys.
Total Piano and more
Classical Boesendorfer Grand Piano in outstanding quality. Brilliant and clear. Also prepared piano: unconventional playing techniques and amazing sounds, thumb tack piano, honky tonk piano, and piano effects. In addition you get a collection of finest bonus sounds created by Kontakt.
STRING TOOLS
During the many recording sessions for Peter Siedlaczek´s String Essentials, he came up with the idea of creating a set of easy to use motions, movements and cadences. This was first intended to be released as a complete library of musical phrases but was sadly dropped along the way. Now, many years later the first tentative steps to create this library have resurfaced and are released as a part of the Complete Orchestral Collection. Beautifully arranged and recorded by the maestro himself you will find a great playground for fast musical inspiration
Minus
insgesamt schon etwas in die Jahre gekommen
einige wenige Sounds nur einmal pro Oktave gesampelt
Matthias Steinwachs
Amazona.de
 Requirements

This product works with the free Native Instruments Kontakt Player, the latest version can be downloaded through Native Access, Native Instrument's download manager!
The minimum required Kontakt version for this product is stated in the product description or can be found on the manufacturers wesite.
System Requirements:
Mac:
macOS 10.14 or higher
64 bit
Intel Core i5 or Apple M1 (native)
RAM: 4GB (6GB recommended)
Windows:
Windows 10 or higher
64 bit
Intel Core i5 or similar CPU
RAM: 4GB (6GB recommended)
Supported Interfaces:
Mac (64-bit only): Stand-alone, VST, VST3, AU, AAX
Windows (64-bit): Stand-alone, VST, VST3, AAX
Legacy Versions:
If you require legacy installers of Kontakt Player please refer to this Knowledge Base Article.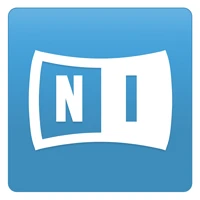 Product Activation:
This product requires Native Access for installation, registration and activation. Start the Native Access-Software and log in using your Native Instruments credetials to start the setup.
To sucesfully activate your product Native Access requires a working internet connection.
An Offline Activation on a different computer is Not Available with this product.
Complete Orchestral Collection
Your review
* Review is required
Email
* Email is required
Add photos or video to your review