Tracktion Novum Software Synthesizer (Windows)
Product Description
Tech Specs
Software Type:

Novum Synthesizer

Platform:

PC Only

Upgrade/Full:

Full

Download/Boxed:

Download

Bit Depth:

64-bit

Format:

AAX, VST3, AU

Hardware Requirements – PC:

2GHz Intel Core 2 Duo or higher, 4GB RAM or more recommended

OS Requirements – PC:

Windows 10 or later

Manufacturer Part Number:

Novum
Groundbreaking research into the subject of granular synthesis by sound designer and collaborator compelled Dawesome to bring forward a compelling pretext: "sound is color." This simple, picturesque notion is deceptively deep and extremely powerful. Through this idea, Dawesome founder Peter V envisioned a system of granular synthesis that uses a cutting edge "decomposition algorithm" that allows you to take any uploaded sample and divide it into up to six layers. Advanced filtering and modification tools allow you to freely manipulate layers, apply them to additional samples, and so much more. Time, pitch, timbre, and qualitative aspects of a sample are independently variable and can be changed on the fly. With full MPE support and seamless DAW integration, any sound can become an instrument. What will you create?
Sampling reimagined
Peter V's decidedly synesthetic approach to developing Novum is illustrated through his "color" model. Rather than looking at a sample as a discrete, one-dimensional piece of audio, the use of tone colors allows you to grab each layer and individually modify and manipulate it, including advanced timbre, envelope, and FX controls. Novum extracts the properties of a sample in a way that is disconnected from the limitations of the sample. For example, the timbre of a specific violin bowing could be modified and applied to a field recording of howling winds. Using onboard sound-sculpting tools, you can pitch, shape, and tune this singular sample to become a full-scale instrument — all without sacrificing the original texture that was so compelling.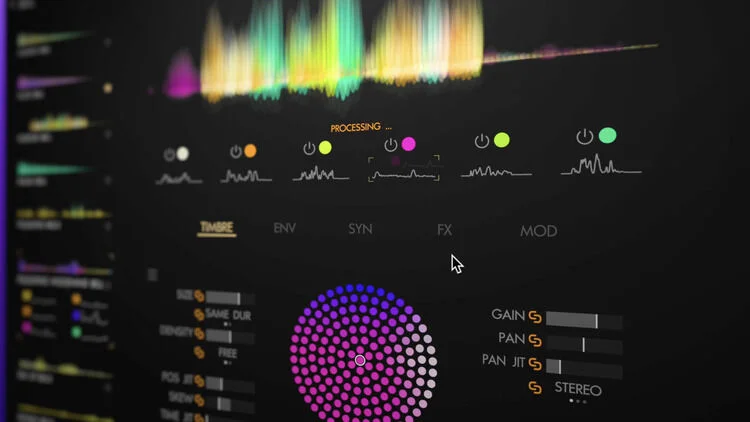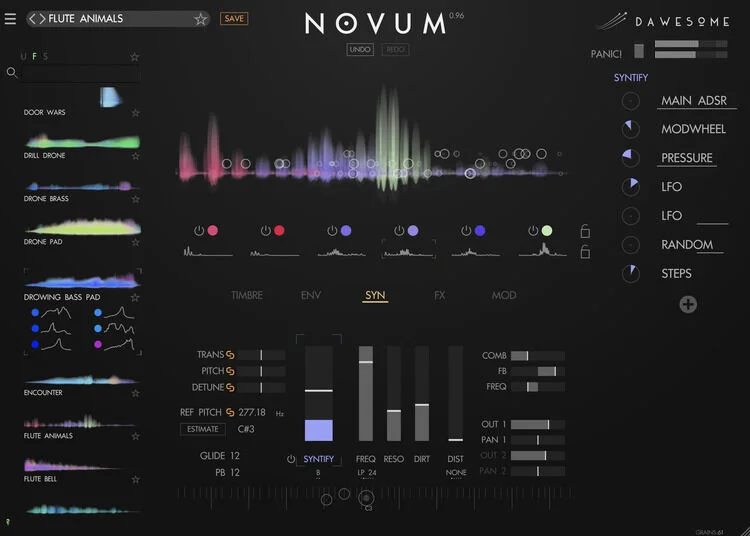 Visualizing your process
Among the many unique aspects of Novum, visualization is key to not only the philosophy behind the synth, but your ability to work with and within it, leading to a UI that is both intuitive and compelling. Samples are presented in a quasi-isometric view, broken out into their respective, colored layers to represent their relations to one another. By arranging them with depth, you can mold and modulate with greater freedom and insight. Plus, seamless DAW integration drastically opens your creative scope, turning simple synths or novel choirs into mechanistic techno-drone symphonies. Granular elements are similarly visualized, dancing and dotting through each layer, which can also be synched with your DAW for unusual, rhythmic pulsing. Using the Homogenize feature, Novum can create visceral, velvety sonic textures, sleeker than would normally be accomplished with traditional granular synths. Whether you're looking to add a unique texture to your existing synths, or embarking on an aural odyssey of trailblazing sound design, Novum is sure to have the tools you need to create, compose, and explore sound in a way you've never envisioned before.
Tracktion Novum Software Synthesizer Features:
Unique "decomposition algorithm" lets you create up to 6 layers from one sample
Layers can be individually modified to add unparalleled depth to your sound
Qualities of sound are disentangled from their samples, allowing you to take elements of timbre and temporal evolution and apply them to different samples
Timbre flower features provides robust, detailed spectral glimmer and modification tools
Generate entire instruments from a single sound with advanced subtractive synthesis via Syntify
Powerful filtering and onboard FX allow for premiere sound sculpting at every level
Full MPE support means compelling opportunities for sonic expression
Seamless DAW integration and optimized CPU efficiency deliver endless opportunities to reimagine your setup
200+ factory patches deliver great options for ready-to-go modulation or constructing new sounds
Mac/PC AAX, VST, AU, Linux VST (64-bit)
Tracktion Novum Software Synthesizer (Windows)
Your review
* Review is required
Email
* Email is required
Add photos or video to your review