Cubase Pro 12 + SoundBank Content (Windows)
Product Description
Tech Specs
Software Type:

DAW

Platform:

PC, Only

Upgrade/Full:

Full

Download/Boxed:

Download

Bit Depth:

64-bit

Format:

VST2, VST3

Authorization Type:

Steinberg 

OS Requirements – PC:

Windows 10 21H2 or later

Hardware Requirements – PC:

Intel Core i5 / AMD Ryzen or higher, 8GB RAM or more recommended, 70GB Drive Space

OS Requirements – PC:

Windows 10 21H2 or later

Manufacturer Part Number:

91070
VST Sound and Loop Sets are sound libraries specially designed for Cubase and Nuendo users. Technically, they are a set of well marked up sound files combined into one file. All VST sound sets and loops have the .vstsound filename extension.
Content
1.Verve Presets.vstsound
2.Drum Loop Expansion 01.vstsound
3.LoopMash Loop Set 01.vstsound
4.LoopMash Loop Set 02.vstsound
5.EDM_Toolbox_MIDI_Loops.vstsound
6.Rock Pop Toolbox 01.vstsound
7.Rock Pop Toolbox 02.vstsound
8.Caleidoscope.vstsound
9.Vintage Verb Collection.vstsound
10.Analоg Technо.vstsound
11.Blockbuster.vstsound
12.Hip Hop Vault.vstsound
13.Ambience.vstsound
14.Soul_Assembly.vstsound
15.Mystic_Spaces.vstsound
16.Blооm.vstsound
17.Danceflооr Tech Hоuse.vstsound
18.Hard Knоcks.vstsound
19.Lo Fi Dreams.vstsound
20.Night Call Synthwave.vstsound
21.Noir.vstsound
22.SequelContent.vstsound
Used by pro-level producers, composers, and musicians worldwide, Cubase is one of the most reputable DAWs in the industry. For Cubase Pro 12, Steinberg streamlined workflows with more control customization options than ever, new instruments like the Verve felt piano, and fresh functions and plugins including mixing support for Dolby Atmos and tools lifted straight from Steinberg's powerful Nuendo postproduction software. Cubase Pro 12 includes a vast array of VST processors and instruments, along with a useful cache of sounds and samples. An undeniable top-shelf software package, Steinberg Cubase 12 Pro gives you everything you need to turn musical inspiration into studio-quality productions.
Note: Cubase Pro 12 does not support 32-bit plug-ins. Cubase 12 licensing is now fully digital and no longer requires a Steinberg USB authorization key. Please contact your Sweetwater Sales Engineer for questions or information.
Fresh features for Cubase 12 Pro
MIDI Remote integration: MIDI Remote scripts are revolutionizing production workflows — map functions to your MIDI devices for faster control
VariAudio with Scale Assistant: Improved precision pitch editing for both processed and organic vocal corrections
Audio to MIDI chords: Groundbreaking drag-and-drop Chord Track lets software automate MIDI recreations of audio files, great for study, inspiration, and more
FX Modulator: A robust multi-effect modulator hub for adding texture and depth to sounds
AudioWarp improvements: Correct audio and timing issues with fewer clicks than in previous Cubase versions
Workflow improvements: Updated workflow functions and command keys
Raiser: This new Cubase limiter is a flexible dynamics processing tool that's useful for mastering
Sample accurate volume automation: Incredibly precise automated sample volumes independent from the buffer size
Logical Editor improvements: Expanded Logical Editor for customized and empowering command and control setups
Verve: A timely new felt piano sample suite that adds the dreamy warm intimacy of felt-padded keys to your bag of tricks
Dolby Atmos tools: Full mixing support for Dolby's Atmos surround sound system right out of the box
Postproduction perks: Several new features borrowed straight from Steinberg's powerful Nuendo postproduction program
Full digital licensing: Say goodbye to Steinberg USB authenticator keys, it's all digital now!
Match the timing of audio events with Automatic Audio Alignment
Thanks to Cubase's Automatic Audio Alignment function, locking different audio tracks together is simple. This is a must-have professional tool for aligning harmony vocals and stacking double-tracked guitars. It's also ideal for solving the phasing problems that often occur when using multi-microphone techniques.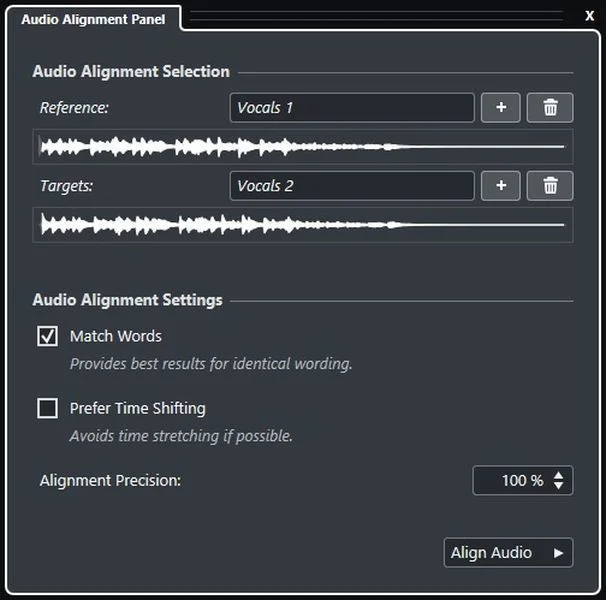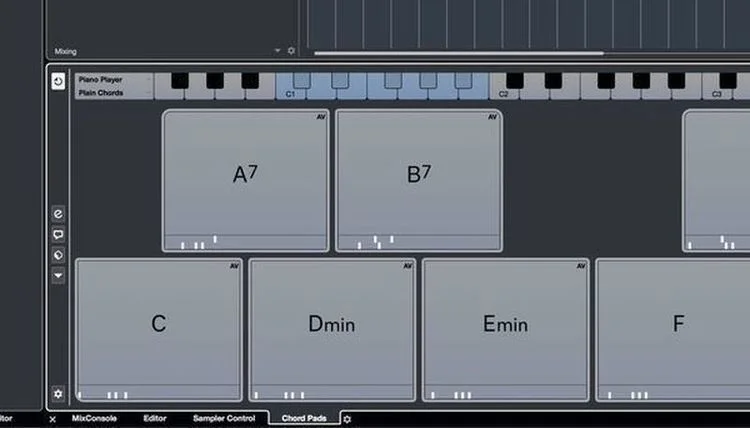 Compose music the easy way with Chord Pads and Chord Track
Writing chord progressions with Cubase is super fast thanks to its easy-to-use Chord Pads. Play with chords and patterns in real-time, while using Cubase parameters to change chords as you go. You can play Chord Pads with your MIDI keyboard with real-time effects for easy writing and experimentation with the ability to change voicings, harmonic tensions, and more as inspiration strikes. Plus, Cubase 12 Pro's new adds Chord Track enables automatic conversion of audio files into MIDI data for rapid adaptation of audio to your tracks.
Create a perfect track with Comping
Here at Sweetwater, we know that perfect takes usually take time which often means managing multiple takes of a single track in your DAW. That's where Comping comes in. While you're tracking, Cubase instantly creates a Lane Track for each take. You can easily swipe across the best parts after completing multiple takes while Cubase automatically creates a master take from your selected parts. Building a perfect track couldn't be easier! Once you have the perfect takes, Cubase 12 Pro also features Steinberg's cutting-edge Raiser limiter plug-in and select Nuendo post-production tools for making essential final tweaks.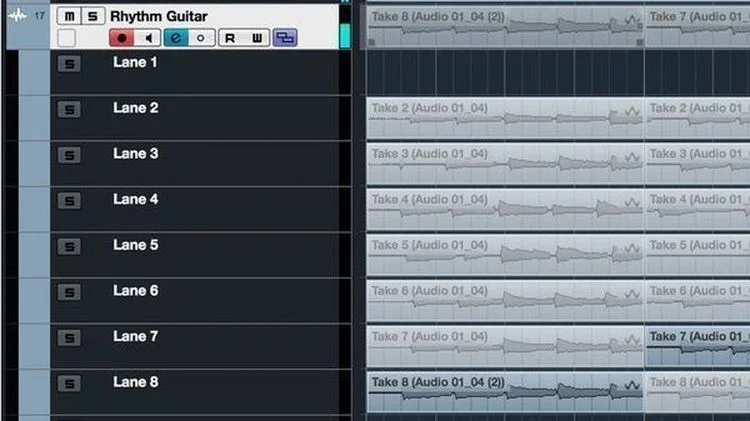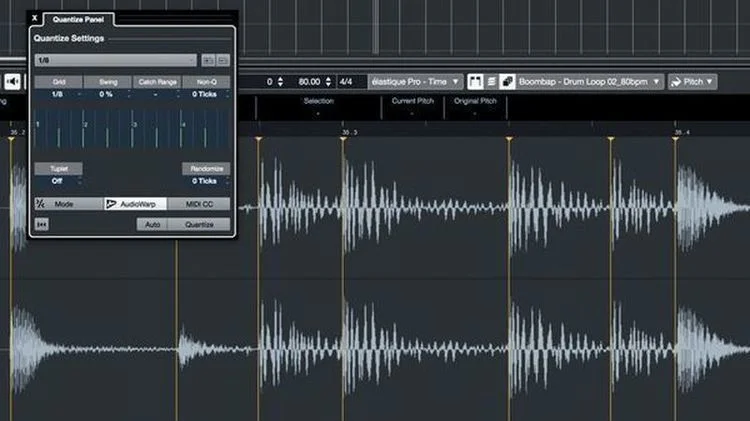 Transform your audio with AudioWarp Quantize
Ever wish you could quantize audio the same way you quantize MIDI? With Cubase you can, using the convenient Quantize panel! A single mouse click is enough to non-destructively quantize single audio loops as well as your entire project. And because the audio events are warped rather than sliced, they automatically follow tempo or pitch changes within your project. In Cubase 12, AudioWarp is new and improved for streamlined workflows and track integration with fewer clicks.
Bring your visions to life with Channel Strip
Cubase's Channel Strip was developed in collaboration with seasoned audio engineers, and it shows — it's jam-packed with the feel and flavor of a top-tier analog console. Channel Strip modules are integrated into every mixer channel, ready to transform your songs into premium productions.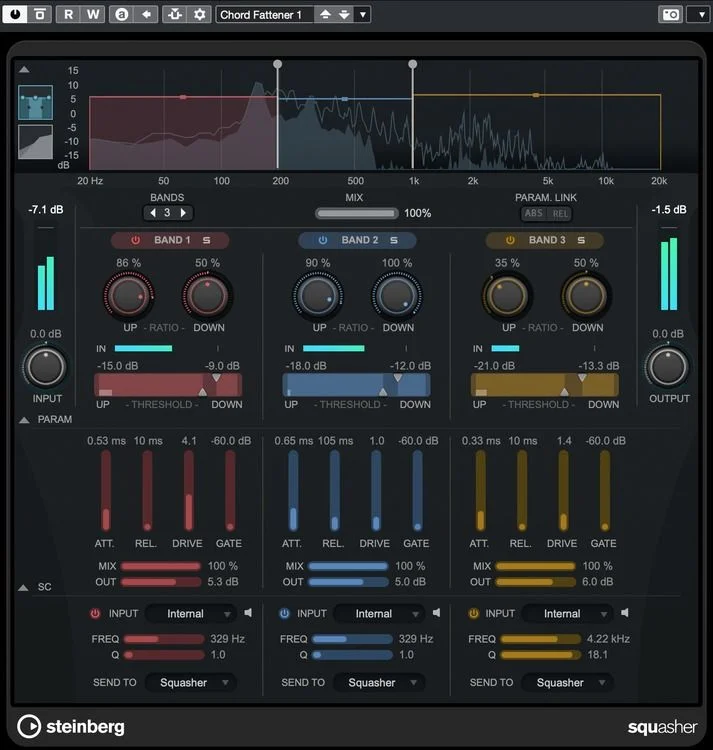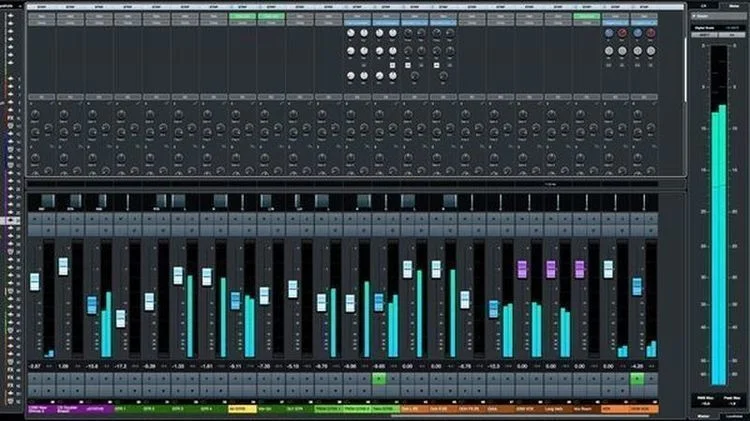 Turbocharge your mixing workflow with MixConsole
Not only does it shine with regard to usability, look, and feel, Cubase's MixConsole also captures the sonic essence of a high-end analog console. Its scalable full-screen mode is tailor-made for mouse-free operation, allowing you to use your computer keyboard to access its channel elements. It's also optimized for screen readers for the visually impaired. View Sets and Channel Zones ensure maximum flexibility, while features like VCA faders, 1-click direct routing, customizable track icons, a track notepad, drag-and-drop support, and plug-in/channel search functions make you feel like you have a state-of-the-art mixing console in your computer.
Integrate performer mixes and monitoring setups with Control Room
Cubase is designed to be the heart of your studio, seamlessly integrating performer mixes and monitoring setups into your recording and mixing workflow. Thanks to its Control Room environment, you can create and manage up to four unique performer mixes, manage feeds from external audio sources, and utilize the built-in talkback function for communicating with performers.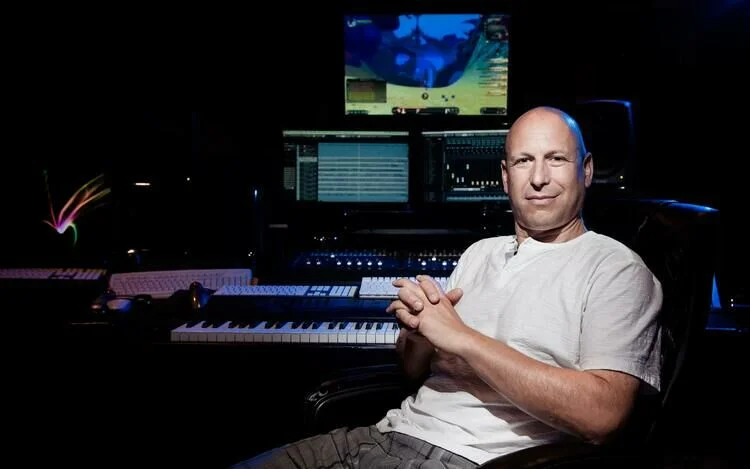 What the pros are saying…
"I have been working with Cubase since 1988, when it was still called Steinberg, on an Atari computer. Cubase has always worked the best for my needs, and throughout the years, it has adjusted itself beautifully to the new and upcoming compositional challenges and requirements. It is always so intuitive and easy to operate, but hand in hand, it is also very powerful and has everything the modern composer should need to create all kinds of scores, whether it be classical, electronic, or other styles. I HIGHLY recommend!" — Inon Zur, Emmy Award winner, 3-time BAFTA-nominated composer, and composer of Starfield, Fallout, Dragon Age, and Syberia soundtracks
Steinberg Cubase Pro 12 Features:
Perfect for professional audio engineers, songwriters, composers, and conductors
Next-generation, 64-bit floating point audio engine gives you plenty of power
MIDI Retrospective Recording tracks you MIDI input, even when you're not recording
Safe Start Mode lets you start Cubase without any third-party plug-ins loaded
Colorized Mixer Channels speed up your workflow
Combine Select Tools Mode combines selection tools for objects and ranges in one feature
Intelligent compositional tools like Chord Track, Chord Pads, and Chord Assistant
MIDI Polyphonic Expression (MPE) Support
Steinberg Virtual Reality for producing top-notch VR projects
Automatic Audio Alignment matches the timing of simultaneously played audio events
Spectral Comparison EQ makes identifying and eliminating frequency collisions easy
Render videos as MP4 files with 16-bit stereo audio
Enables easy import of audio and data from other saved projects
Comping makes creating perfect tracks a breeze
AudioWarp Quantize makes quantizing audio as easy as quantizing MIDI
Channel Strip modules are integrated into every mixer channel
MixConsole captures the essence of a high-end analog console
VCA Faders make working with submixes super easy
Sampler Track and Caleidoscope for building loops and phrases
Control Room for integrating cue mixes and monitoring setups
Support for 5.1 surround and true multichannel playback
Complete suite of over 90 high-end audio and MIDI VST effect processors
Comprehensive set of 8 outstanding instruments with over 3,000 sounds
New Dolby Atmos support (Pro exclusive)
Improvements to VariAudio, AudioWarp, and Logical Editor
Expanded MIDI controls, workflow and command key customization, and automation for sample volumes and audio to MIDI conversion
Fresh features borrowed from Steinberg's postproduction sister software Nuendo (Pro exclusive)
Now optimized for Apple silicon processors via Rosetta 2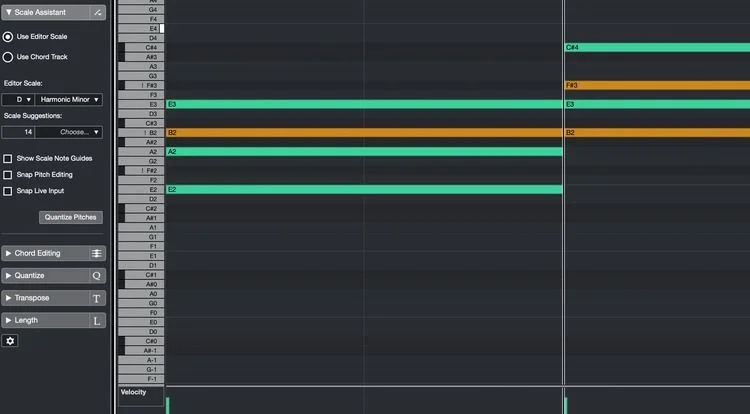 Cubase Pro 12 + SoundBank Content (Windows)
Your review
* Review is required
Email
* Email is required
Add photos or video to your review