Real-time harmony output
With an impressive MIDI interface and automatic harmony functionality, Harmony boasts its ability to prove it's worth both on and off the stage. You'll be able to create dramatic harmonies no matter the situation; blend your sound in the studio with Harmony's graphical interface or impress the crowd with authentic vocal sound during your next gig!
A triad of workflow options
Combining an automatic, playable MIDI with a graphical interface for harmonization opens the door for a wide variety of producers. Not fond of music theory or keys? Automatic mode allows you to instantly produce high-quality harmonies using chord and effects presets. If you prefer to be hands-on with a keyboard, Harmony's MIDI mode will let you create your vocal masterworks in real time; and with a scale selection tool, nothing you play will be off-key. Finally, with a graphical mode, you'll simply use your mouse to drag and drag your vocals around the audial plane, making panning and delay effects as simple as a single mouse click.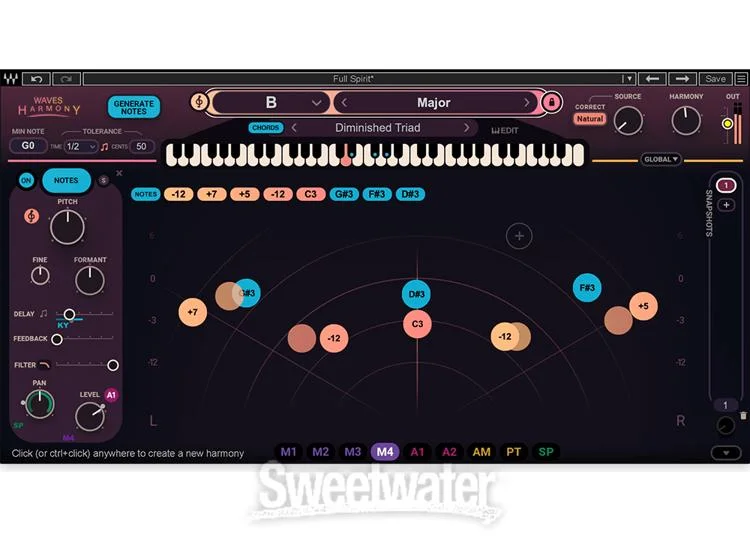 Waves Harmony Vocal Generation Plug-in Features:
Generate up to 8 unique voices for a true harmonizing sound
Controllable filter, panning, delay, and pitch modulation on individual voices
450+ presets to boost vocal creativity
Real-time functionality makes vocal harmonization a cinch in the studio or on the stage
MIDI functionality allows you to play your vocals, generating harmonies on the spot
Chord presets make designing sounds easier; no need to brush up on your music theory knowledge
Convenient save feature lets you create massive vocal arrangements that you can return to and modify
3 unique workflow options: automatic, playable MIDI, and graphical — a friendly plug-in for all production styles
Versatile FX selection including doubling and delay
Compatible on both PC and Mac operating systems