Native Instruments Komplete 13 Ultimate (MAC)
Product Description
Komplete 13 Ultimate Comes With New Kontakt Library Every Week For Free Lifetime
Tech Specs
Software Type:

Instrument and Effects Ultimate Collection

Platform:

Mac, Only

Upgrade/Full:

Full

Download/Boxed:Download
Bit Depth:

64-bit

Format:

Standalone, AAX Via Bluecat Patchwork , VST, AU

Hardware Requirements – Mac:

Intel Core i5 or higher, 6GB RAM or more recommended

OS Requirements – Mac:

macOS 10.14 or later

Manufacturer Part Number:

27400
Offering cutting-edge virtual instruments, effects, and inspiring expansions, Native Instruments Komplete 13 Ultimate is a must-have toolkit for modern sound designers and music producers, boasting 118 premium instruments, more than 67,000 preset sounds, and more than 840GB of content. Features include the award-winning Kontakt 6 sampling engine, Massive X synth (a favorite of synthesists at Sweetwater), Session Guitarist, Symphony Essentials, Collection, and more than 35 expansion packs for genre-specific musical creation. These and other favorites, including Reaktor 6, Battery 4, the re-engineered Guitar Rig 6 Pro, come pre-loaded onto one handy installation drive for instant access.
Kontakt 6
Fully featured and even easier to navigate, Kontakt 6 unlocks the full potential of your NI and third-party NKS libraries. Onboard scripting and audio routing make Kontakt 6 a true production and performance powerhouse.
Massive X
NI's flagship wavetable synth, Massive X, is packed with killer sounds and delicious presets to stoke your analog and digital appetites. Massive X is not just one of the best virtual synths on the market, but one of the best synths, hardware or software, of its time.
Symphony Essentials Collection
Komplete's Symphony Essentials Collection is the ultimate orchestral portfolio, with six libraries of professionally performed symphonic instruments — including percussion, strings, brass, and woodwinds — recorded by a talented team of recording engineers. An intuitive interface with a streamlined workflow makes it easier than ever to program and perform highly realistic and expressive compositions.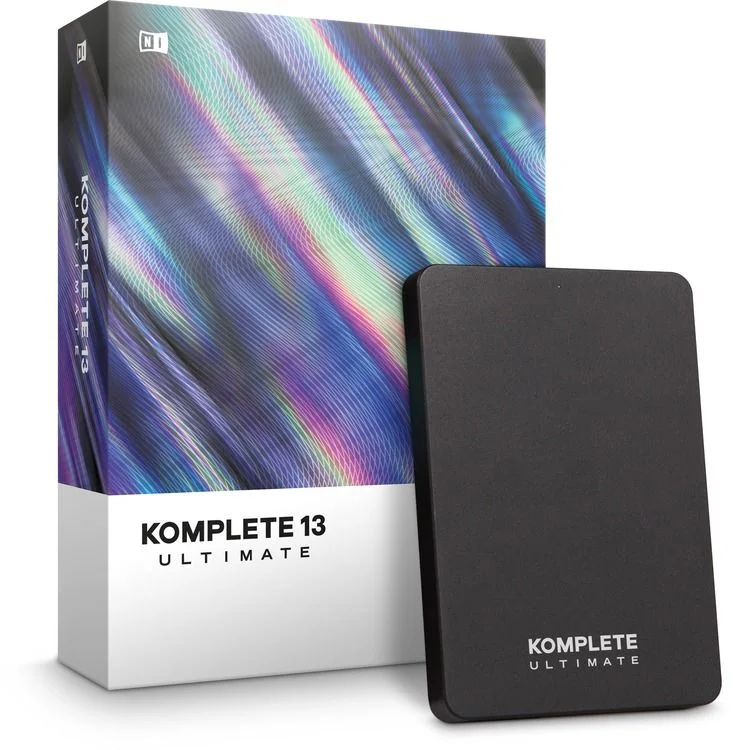 More instruments, effects, and sounds than ever before
You'll find 118 instruments/processors and more than 67,000 preset sounds within Native Instruments Komplete 13 Ultimate. From the endless creative potential of Reaktor 6 to the authentic world-music textures of the Discover Series to the convincing amp sims of Guitar Rig Pro 6, Kontakt 13 Ultimate has you covered for virtually any production obstacle you might encounter. You also get excellent mix tools from the Solid Mix Series, including studio-style EQ, Dynamics, and Bus Compression processors, while innovative titles such as the unique sample-and-synthesis-driven Form and the multi-mode Replika XT delay make the latest Komplete more flexible than ever.
Hands-on hardware control
If you're rocking a Kontrol S- or A-series keyboard controller or Maschine creation tool, then you'll be blown away by the way Komplete 13 Ultimate fits into your workflow. Not only can you browse your Komplete 13 library for instruments and effects directly from your hardware, but you can also call up individual presets via the tag/category-based browser and tweak them to perfection without touching a mouse. It's the perfect combination of software flexibility with the hands-on control you'd expect from a traditional hardware keyboard or groove machine.
Inspiring tools for post-production, sound design, and mastering
Because Komplete 13 Ultimate is such a powerful tool for songwriting, it's easy to forget that it's perfect for post-production, too. If you produce audio for video on a regular basis, you know that you can never have too much content to pull from. And Komplete 13 really covers all angles — whether you need pulsing tribal drums for an ad, a solemn acoustic piano for a short film, or powerful sound design capabilities to create sound effects, Komplete 13 Ultimate has the tools you need. Best of all, the individual products are all very easy to browse through, making your entire creative process, from writing to mastering, totally streamlined. Equip yourself for all your sound design needs, with Native Instruments Komplete 13 from Sweetwater.
Included Products:
Platforms
Komplete Kontrol Software
Reaktor 6
Kontakt 6
Synthesizers
Massive
Monark
Retro Machines Mk2
Reaktor Prism
Reaktor Spark
Blocks Primes
Massive X
Super 8
Trk-01
Form
Rounds
Kontour
Absynth 5
FM8
Razor
Skanner XT
Creative Samplers
Play Series Instruments
Ethereal Earth
Hybrid Keys
Lo-Fi Glow
Cloud Supply
Modular Icons
Analog Dreams
Butch Vig Drums
Acoustic Pianos
The Gentleman
The Grandeur
The Maverick
The Giant
Noire
Una Corda
Alicia's Keys
Drums and Percussion
Drumlab
Abbey Road 60s Drummer
Studio Drummer
Abbey Road 50s Drummer
Abbey Road Vintage Drummer
Abbey Road 70s Drummer
Abbey Road 80s Drummer
Abbey Road Modern Drummer
Maschine Drum Selection
Global
West Africa
Middle East
India
Cuba
Balinese Gamelan
Electronic Pianos and Organs
Vintage Organs
Scarbee Mark I
Scarbee A200
Scarbee Clavinet/Pianet
George Duke Soul Treasures
Acoustic and Electric Guitars
Session Guitarist – Electric Sunburst Deluxe
Session Guitarist – Strummed Acoustic
Session Guitarist – Strummed Acoustic 2
Session Guitarist – Picked Acoustic
Scarbee Funk Guitarist
Electric Bass
Scarbee Rickenbacker Bass
Scarbee MM Bass
Scarbee Pre-Bass
Scarbee Pre-Bass Amped
Scarbee Jay-Bass
Scarbee MM-Bass Amped
Contemporary Strings and Horns
Session Strings Pro 2
Session Horns Pro
Classical Instruments
Symphony Essentials – Percussion
Symphony Essentials – Woodwind Solo
Symphony Essentials – Woodwind Ensemble
Symphony Essentials – Brass Solo
Symphony Essentials – Brass Ensemble
Symphony Essentials – String Ensemble
Stradivari Violin
Cinematic
Kinetic Metal
Straylight
Pharlight
Thrill
Mysteria
Kinetic Toys
Emotive Strings
Damage
Action Strikes
Rise & Hit
Action Strings
Evolve
Evolve Mutations
Evolve Mutations 2
Mallet Flux
Studio Effects
Solid Bus Comp
Solid EQ
Solid Dynamics
Supercharger GT
Transient Master
Vari Comp
Enhanced EQ
Passive EQ
VC 76
VC 2a
VC 160
Creative Effects
Raum
Replika XT
Mod Pack – Phasis
Mod Pack – Choral
Mod Pack – Flair
Crush Pack – Dirt
Crush Pack – Freak
Crush Pack – Bite
Guitar Rig 6 Pro
Driver
The Finger
The Mouth
Molekular
RC 48
RC 24
39 Kontakt Expansions, Including:
True School
Velvet Lounge
Deep Matter
Solar Breeze
Lilac Glare
Halcyon Sky
Lucid Mission
Neon Drive
Queensbridge Story
Molten Veil
Elastic Thump
London Grit
Decoded Forms
Indigo Dust
Rising Crescent
Global Shake
Drop Squad
Platinum Bounce
Lazer Dice
Marble Rims
Caribbean Current
Astral Flutter
Cavern Floor
Golden Kingdom
Byte Riot
District Xeo
Magnetic Coast
Opaline Drift
Warped Symmetry
Prismatic Bliss
Native Instruments Komplete 13 Ultimate Features:
Comprehensive collection of industry-standard and forward-looking virtual instruments and effects
840GB+ of content — includes 118 products and 67,000+ sounds — all loaded onto a convenient installation drive
Hard-hitting samplers, powerful synthesizers, and other virtual instruments provide tons of songwriting and soundscaping power
Solid Mix Series processors bring you the sound of studio-favorite EQ, Dynamics, and Bus Compression
Integration with Maschine hybrid workstations and Komplete Kontrol S-series and A-series keyboard controllers
Native Instruments Komplete 13 Ultimate (MAC)
Your review
* Review is required
Email
* Email is required
Add photos or video to your review