iZotope Ozone 10 Advanced Pro Mastering Software Suite mac
Product Description
Tech Specs (Intel MAC & PC & M1/M2 Supported)
Software Type:

Mastering

Platform:

Mac, Only

Upgrade/Full:

Full

Download/Boxed:

Download

Bit Depth:

64-bit

Format:

AAX, AU, VST2, VST3, NKS

Hardware Requirements – Mac:

Intel Core 2 Duo or higher, 4GB RAM minimum

OS Requirements – Mac:

OS X 10.11.6 or later

Manufacturer Part Number:

OZ10ADV_RD
What's new in Ozone 10:
●      Stabilizer Module  – sculpt a balanced sound with this new intelligent and adaptive mastering EQ: dynamically shape a mix into a clear, natural tone, or tame problem resonance, carve away harshness, and smooth transients for better translation across listening environments (Advanced only)
●      Impact Module – enhance the rhythm and feel of tracks with this new module by intuitively controlling microdynamics: four sliders work across different frequency bands to breathe life into a mix, adding punch and dynamic space, or gluing your track together for a thicker sound (Advanced only)
●      Improved Master Assistant – match the sound of trusted reference files or today's hit songs with groundbreaking new matching technology for tone, dynamics, and width. An updated Assistant View makes it faster than ever to customize your starting point, while the Tonal Balance curve allows for easy metering (included in Standard and Advanced)
●      Magnify Soft Clip – boost loudness while maintaining high fidelity audio with this new setting in the Maximizer module (included in Standard and Advanced)
●      Recover Sides – reduce width without losing the sides with this new feature in the Imager module, which maintains stereo information in mono and helps preserve depth and power when narrowing a problem frequency (included in Standard and Advanced)
●      And more, including native Apple silicon support, and a refreshed look and feel of the Ozone interface
A Powerful Update to a Mastering Studio Staple
Just when you thought iZotope's Ozone couldn't get more powerful, Ozone 10 Advanced comes along and does just that. This comprehensive mastering software suite is loaded with upgraded intelligent processing and a bevy of new features. Sculpt a balanced sound with the Stabilizer Module, and add musical movement with the Impact Module. Magnify Soft Clip enhances the Maximizer's IRC algorithms with soft clipping. Recover Sides in the Imager Module enables you to reduce width without losing stereo information in the sides of your mix. You also get an Assistant View that makes matching the sound of your master to chart-topping hits and reference files easier than ever. Delta monitoring allows you to isolate audio differences. Tonal Balance targes curves provide easy visual comparisons between your audio and professionally mastered tracks. Complete with improved processing performance and a refreshed look and feel, iZotope Ozone 10 Advanced is a surefire way to polish and perfect your mixes.
Enhanced options for audio pros
Ozone 10 Advanced is a worthy update with plenty of exclusive features. The Stabilizer Module is an adaptive mastering EQ that makes sculpting a balanced sound easy. The Impact Module gives you fine control over your project's micro-dynamics for effective enhancement of its rhythm and feel. Master Rebalance corrects the levels of individual instruments in a stereo file. Low End Focus supplies surgical shaping of your master's low-frequency content. Tonal Balance Control analyzes and optimizes your master. Spectral Shaper adds instant polish and removes harshness using spectral-shaping technology. You also get Codec Preview for auditioning how your music will sound after applying data compression algorithms, and you can use Ozone 10 Advanced's modules as plug-ins within your DAW.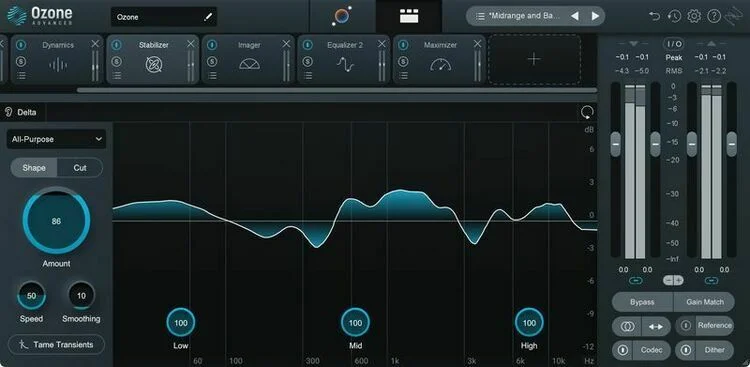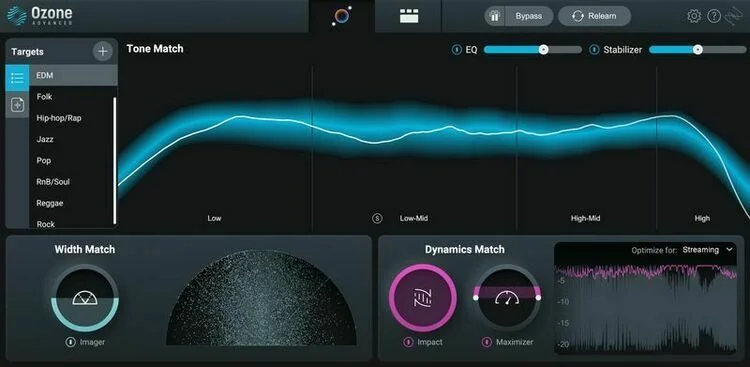 Master Assistant provides the ideal starting point
If you're not sure where to start, iZotope Ozone 10 Advanced's upgraded Master Assistant has got your back. It analyzes your mix, creates a sonic profile, then suggests the targets, signal chains, and processor settings that make the most sense. From there, you can personalize the sound as much as you'd like. What's more, you can choose from a modern or vintage vibe, with loudness targets for CD and streaming. It's almost like having a second set of ears in your studio. You also get an Assistant View that makes it faster than ever to customize your starting point.
Automatic clarity and added musical movement
Crafting a clean, high-impact is a breeze with Ozone 10 Advanced, thanks to its Stabilizer Module and Impact Module. Sculpt a clear, balanced sound with the Stabilizer Module, which is an intelligent adaptive mastering equalizer that tames unwanted resonances, carves away harshness, and smooths overbearing transients. Enhance the rhythm and feel of your master with the Impact Module, which intuitively controls micro-dynamics to add punch, glue, and dynamic space to your audio. The engineers here at Sweetwater have found these two modules to be an easy, effective way to breathe life into stale-sounding mixes.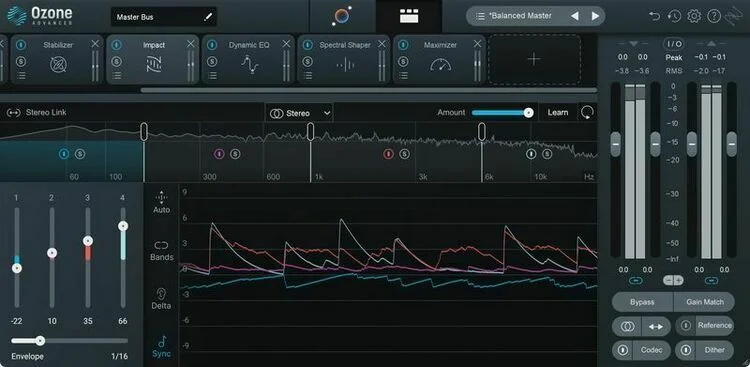 iZotope Ozone 10 Advanced Features:
Comprehensive, pro-level mastering software suite
Stabilizer Module is an adaptive mastering EQ that makes sculpting a balanced sound easy
Impact Module gives you fine control over your project's micro-dynamics
Master Rebalance corrects the levels of individual instruments in a stereo file
Low End Focus adjusts the contrast and definition of low frequencies
Tonal Balance Control analyzes and optimizes your master
Spectral Shaper adds instant polish and removes harshness using spectral-shaping technology
Magnify Soft Clip enhances the Maximizer's IRC algorithms with soft clipping
Recover Sides in the Imager Module reduces width without losing stereo information in the sides
Delta monitoring allows you to isolate audio differences
Codec Preview auditions how music will sound after applying data compression algorithms
Upgraded Master Assistant uses your audio's sonic profile to get you to a logical starting point
Assistant View makes matching the sound of your master to chart-topping hits and reference files easier than ever
Choose from a modern or vintage vibe, with loudness targets for CD and streaming
Vintage modules for adding warmth, grit, and vibe
Works as a single plug-in or as individual component plug-ins
Refreshed look and feel
iZotope Ozone 10 Advanced Pro Mastering Software Suite mac
Your review
* Review is required
Email
* Email is required
Add photos or video to your review