IK Multimedia – Hammond B-3X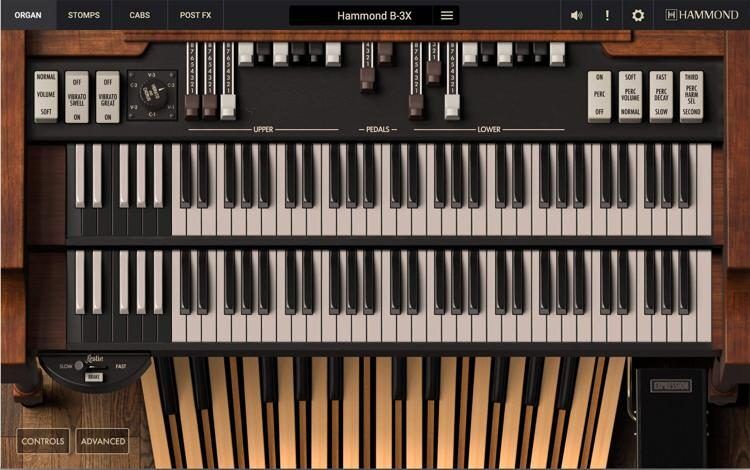 Tech Specs
Software Type:

Organ

Platform:

, MAC & PC

Upgrade/Full:

Full

Download/Boxed:

Download

Bit Depth:

64-bit

Format:

Standalone, AU, VST2, VST3,

MAC OS : 15 or new
OS Requirements – PC:

Windows 7 SP1 or later
View More
Product Description
Full effects chain, cabinet models, and more
IK Multimedia Hammond B-3X delivers the full sonic impact of the B-3, and includes a full FX chain to re-create the complete signal path and character of these classic instruments as they were actually used in countless epic recordings. Hammond B-3X naturally includes a Leslie rotary speaker cabinet with multiple microphones, but you also get classic stomp box effects, a selection of power amp and cabinet models you can mix-and-match, a parallel guitar amp and 4 x 12″ cab, a full-featured mixer, and even post-mixer effects.
It's all in the details
For Hammond B-3X, IK's approach to the instrument matches the way the original hardware organ works. Based on several meticulously-maintained Hammond organs, B-3X starts with 91 free-running modeled tonewheels and or absolute realism mixes those in real time based on your notes and drawbar levels. IK's modeling then faithfully re-creates tonal filtering, independent key click, and the iconic Hammond percussion and chorus-vibrato circuits to re-create the massive, "organic" feel of the actual instrument. All settings, controls, and circuits are modeled to IK's exacting standards, with every detail checked and confirmed with the Hammond Organ Company team. You can even simulate the effects of aging components, controlling tonal balance, generator leakage and crosstalk, and even the presence boost of the chorus circuit!
Real-deal tone and feel
The controls of Hammond B-3X are designed to re-create the spot-on experience of playing a classic hardware B-3 organ — but with added modern conveniences. Every detail, from the order of chorus/vibrato settings to the placement of the percussion switches, is exactly like the original. The drawbars even update in real time when you select the inverted drawbar settings keys, affording you the ability to also save 24 custom drawbar settings per preset. For live use, the Controls view hides the keyboard and enlarges the drawbars and switches for fewer distractions while playing. And there's even included MIDI assignments for today's digital Hammond organs, making it plug-and-play easy to perform, with everything right at your fingertips. If you've played a real Hammond B-3, you're not going to be disappointed sitting down at this software emulation. Take it from legendary organist Dr. Lonnie Smith: "It's unbelievable. It's just like I'm sitting at the B-3. It reacts just like the original does. It's dynamite."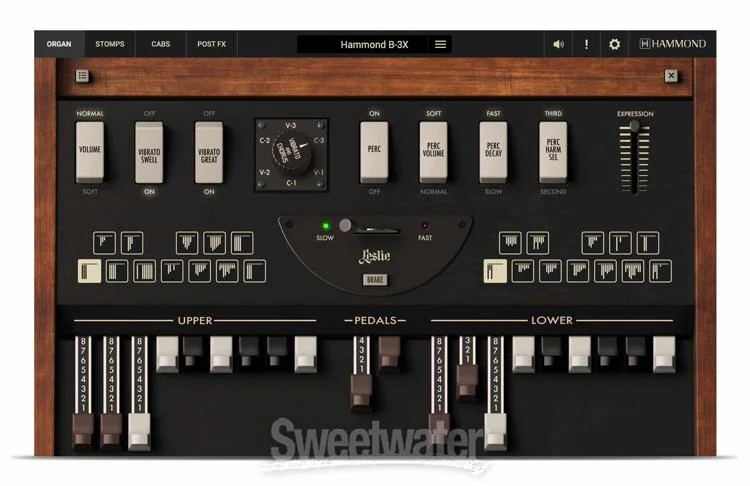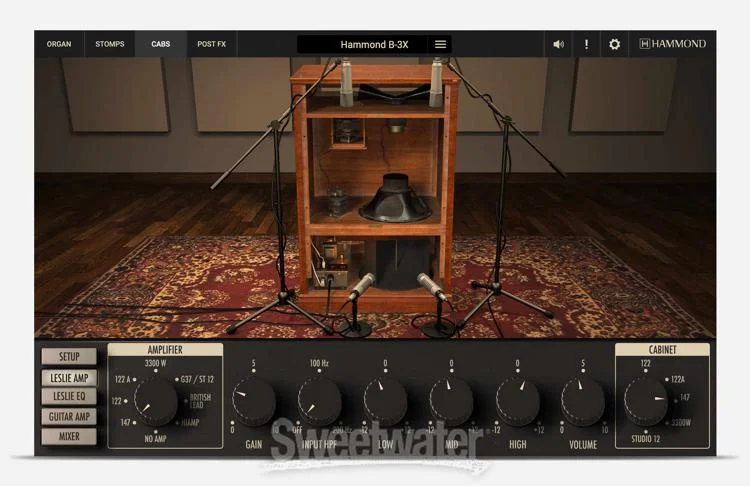 Classic organ FX and real Leslie sound
The organ sound feeds the Stomps section and its five-effect pedalboard with overdrive, graphic EQ, chorus-vibrato, wah, and spring reverb. Derived from IK's award-winning AmpliTube and T-RackS software, these effects are carefully chosen and arranged to make it easy to re-create the broadest range of iconic tonewheel organ sounds, and can be assigned to MIDI control for onstage use. The signal is then routed to the Cabs section with a selection of genuine Leslie amps and speakers that you can mix and match along with a parallel guitar amp and 4 x 12″ speaker cabinet. Leveraging technology derived from IK's award-winning Leslie Collection and amp modeling from AmpliTube 4, the Hammond B-3X's Cabs section offers a huge range of sound-shaping options.
Add for the finishing touches…
Lastly, Hammond B-3X offers three studio rackmount effects derived from T-RackS to add a professional sheen to your sound. IK's Limiter 76 FET compressor serves up a timeless, iconic sound; the EQ-81 adds classic British console tone-shaping and punch, and a digital reverb adds pristine spacial enhancement to your tone. From its authentic sound generation to its complete effects path — with fine tweakability all along the way — Hammond B-3X offers an exhaustive representation of the legendary Hammond organ. This combined with IK's authentic Hammond branding makes Hammond B-3X a must-have for your virtual instrument arsenal.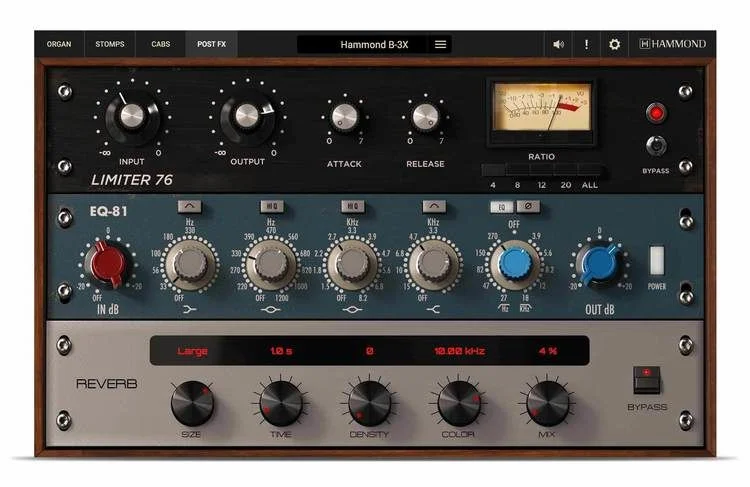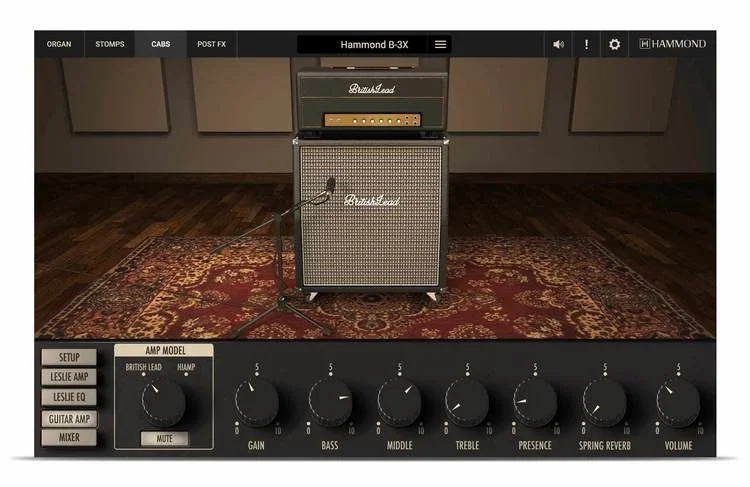 IK Multimedia Hammond B-3X Features:
Official Hammond B-3 virtual instrument, designed in cooperation with Hammond Organ Company
Advanced editing with tonewheel model selection, generator leakage, key click, tonal balance, percussion, and chorus
24 custom drawbar settings available within each preset
Official Leslie speaker with 7 amps and 5 cabinets you can mix-and-match
Parallel guitar amp section with 2 amp models and 4 x 12″ cabinet
5-unit stompbox pedalboard for ultra-flexible tonal shaping
3-effect studio post-FX section for final polish and mastering
Zoomed-in controls view for live or session use
MIDI program change preset assignments
Assignable MIDI CCs for use with external controllers
Works as a multi-platform plug-in and as a standalone application