Wavetable, analog, granular, and harmonic engines: a quadruple threat
Wavetable synths are used to create many of the cutting-edge sounds you hear in today's blockbuster movies, television series, and hit records. Granular synthesis is capable of creating otherworldly synth sounds by deconstructing sampled material. Harmonic additive synthesis manipulates partials for next-level sound design. And analog synthesis remains a staple of contemporary music-making.
Combining modern wavetable synthesis, granular synthesis, harmonic synthesis, and analog modeling in one powerful, easy-to-use soft synth, Pigments is a synthesis platform that gives you the best of all worlds. From bombastic basses to evolving pads to molten leads, this soft synth has you covered.
Arturia Pigments lets you run up to two sound engines — a triple-oscillator virtual-analog engine, a detailed granular synthesis engine, a harmonic synth engine, or a complex wavetable engine with morphing and import — in parallel for impossibly fat sounds with off-the-charts depth, dimensionality, and harmonic richness.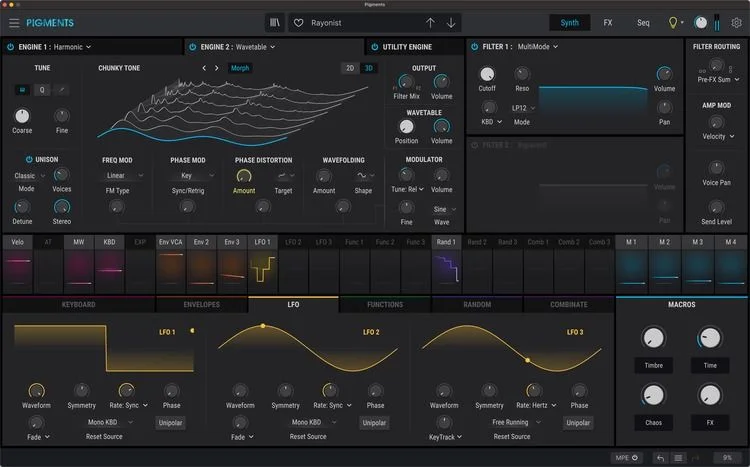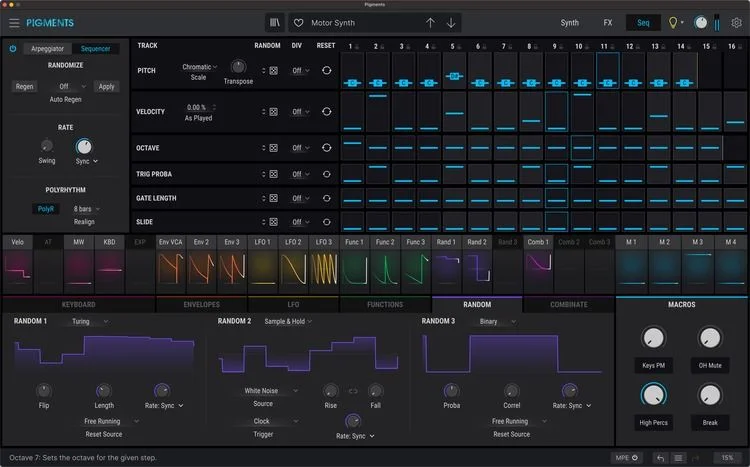 Near-infinite sound-sculpting control
And to shape the sounds you generate from those sound engines, Pigments has twin filters with dozens of continuously variable filter types and continuous series/parallel routing to give you near-infinite sound-sculpting control. Choose from classic filters among Arturia's V Collection instruments, or take a walk on the wild side and dig in deep with modern filters like Surgeon and Comb. However you shape them, the sounds coming from Arturia Pigments will take center stage in your productions.
Incredibly powerful and intuitive
Despite its awesome sonic prowess, Arturia Pigments is a ridiculously easy soft synth to use. At Sweetwater, we're intimately familiar with the challenge of seizing that flash of inspiration and molding it into sound. It's the most fundamental — and exciting — part of making music. Pigments streamlines that process with near-limitless patch creation and modulation options at your beck and call in an intuitive user interface that provides visual feedback every step of the way. Throw in cool features such as drag-and-drop Insert and Send routing, and sonic experimentation becomes effortless with Arturia Pigments.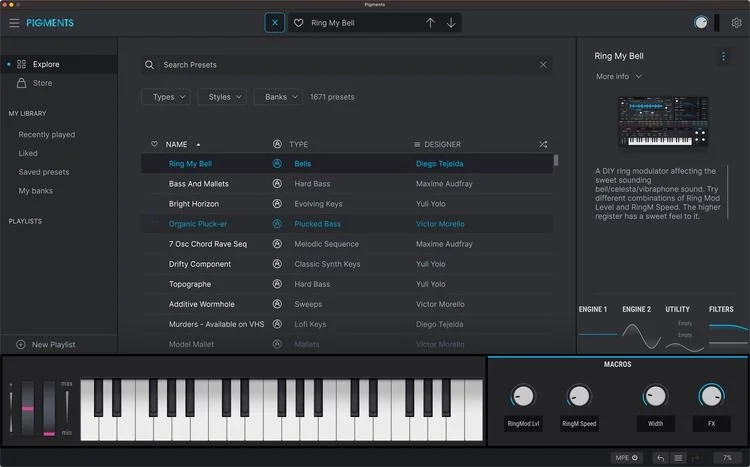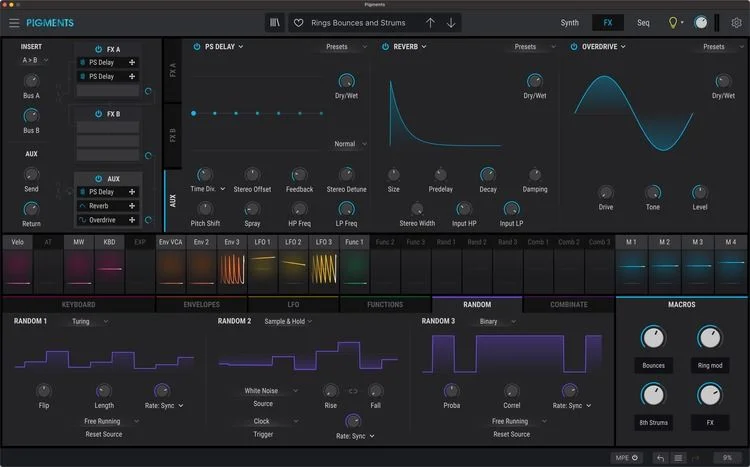 A truckload of tricks up its sleeve
According to Arturia, "While Pigments can sound like other synths, no other synth can sound like Pigments." We couldn't agree more here at Sweetwater. Pigments' ability to scale quantized pitch modulations lets you easily build complex melodic sequences. It offers continuous unison controls that can be modulated with classic and chord modes. Its wavetable oscillator boasts extensive wave-shaping options with unique aliasing controls. And in addition to the expected modulation sources, it has unconventional ones like the Turing and Binary random generators.
Your go-to versatile synth
Arturia Pigments also features a battery of modulators — advanced envelopes, morphing LFOs, randomizers, combinators, and more — that bring sound to life. Also featured is configurable gate/retrig handling for the modulators — great for unusual rhythmic sequences and self-generating patches. Arturia Pigments' polyrhythmic sequencer has a strong emphasis on randomness but also has scale control to retain musicality. And the soft synth's stunning studio-grade effects — including wavefolder, overdrive, parametric EQ, and delay — make crafting rich, evolving patches instantaneous and fun with Arturia Pigments.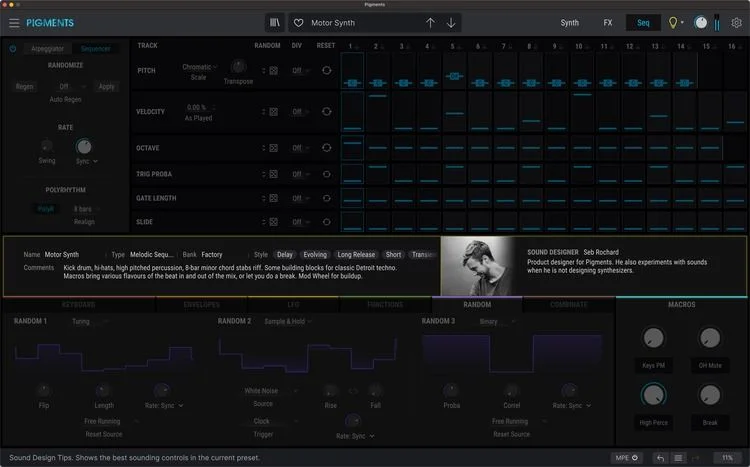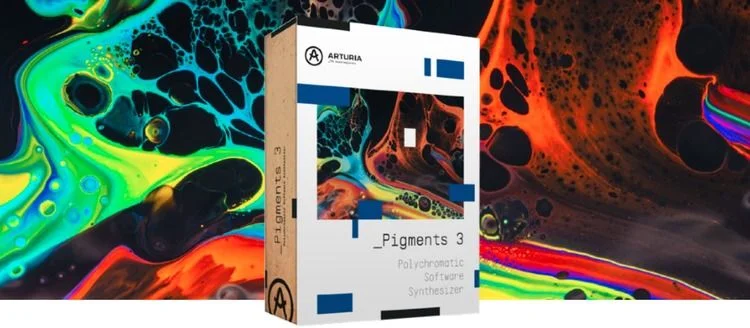 What's new in Pigments 3:
Harmonic engine:Detailed additive synthesis with up to 512 partials, dual formant filters that can be morphed from A to B, odd and even harmonic customization, and various colorful ways to modulate partials
3rd Utility Engine: Add a sub oscillator and up to 2 noise sample layers for extra depth and sonic color
64 New Wavetables:Bringing the total to 164
Ramp Waveform: For virtual analog engine
Jup-8 V4 Low-pass Filter: The revered filter from our meticulous emulation of a polysynth icon
Enhanced filter routing:Route either filter to either FX Bus for detailed sound
Pitch Delay: A clean, modern algorithm for creating exciting pitch-shifting ambiance
Multi-Band Compressor:A much-requested tool for creating a tight mix-ready sound
BL-20 Flanger: A faithful reimagining of an elusive analog studio effect
Chorus JUN-6: One-touch analog sparkle and stereo fatness, taken from our faithful Juno-6 emulation
Ramp waveform for virtual analog engine
Expertly-crafted presets by world-class sound designers
Enhanced in-app tutorials
Arturia Pigments 3 Polychromatic Software Synthesizer Features:
Combines 2 sound engines in parallel in one powerful, easy-to-use soft synth
Complex wavetable engine with morphing and import
Virtual analog engine with 3 oscillators per voice and multiple waveforms
Granular synth engine for mind-mending soundscapes
Harmonic synth engine enables complex additive synthesis
Twin filters with dozens of continuously variable filter types and continuous series/parallel routing
Modulate anything with anything, including MIDI, envelopes, LFOs, random sources, and complex function generators
Integrated polyrhythmic step sequencer and arpeggiator make it easy to create complex, evolving sequences and arps
Powerful built-in studio-grade effects
Visual interface with graphical representation of the most important modules
Graphical editing, source-based or destination-based
Living, moving waveform to see your sound come alive
4 assignable macros to control multiple parameters at once
Extensive factory preset library with hundreds of sounds from top artists and sound designers, including Jeremy Savage, Starcadian, Cubic Spline, Mord Fustang, and Jörg Hüttner — plus highlighting of recommended tweakable parameters