The Ultimate Music Creation and Performance DAW
Every DAW has its strong suit — some are built specifically for recording and editing, others lean heavily on production, but no DAW does real-time music production like Ableton Live, and with Live 10 Suite, your options are never-ending. Whether you're using it to trigger loops and with a combination of software and hardware instruments or to loop riffs and backing tracks with your band, Live 10 Suite has it covered. As a creative tool, its 70GB of content and extensive collection of virtual instruments and effects will never leave you wanting, and with Max for Live built in, anything you can't accomplish with the included content or your favorite plug-ins is still easily within reach.
An ideal DAW for creative artists
From the beginning, Ableton Live has been as much a creative tool as a DAW. That largely has to do with the way Live lets you construct tracks and play with audio in real time. There are two main parts to Live: the Session View, and the Arrangement View. The Arrangement View is more or less a standard linear DAW, with time on the X axis and tracks on the Y axis.
Where Live differs from other DAWs is its Session View, which puts individual tracks on the X axis and scenes on the Y axis. Each scene contains a slot on each channel for a clip. Clips are usually short pieces of audio or MIDI a few measures long or shorter, which loop to create grooves. Launched individually, these loops let you experiment with your arrangements, trying out various combinations of grooves and riffs.
Since everything from modern electronic music to classic rock and blues is heavily based on repeating sections, Live's Session View makes it an ideal creative tool for all kinds of songwriters. In fact, the songwriting tools don't stop there. In addition to launching individual clips, you can launch entire scenes, complete with automatic advancement to subsequent scenes, scene repeat instructions, and other logic options.
Using scenes makes it easy to arrange entire songs in parts (verse, chorus, etc). And when you record your progression to the linear Arrangement View, you add the possibility to record lead lines and other performances that fall outside the rest of the song structure. What's more, all of the loop-/riff-based arrangement options are still available on the timeline, so you can continue to edit and build on your song, even after you record it to the session view.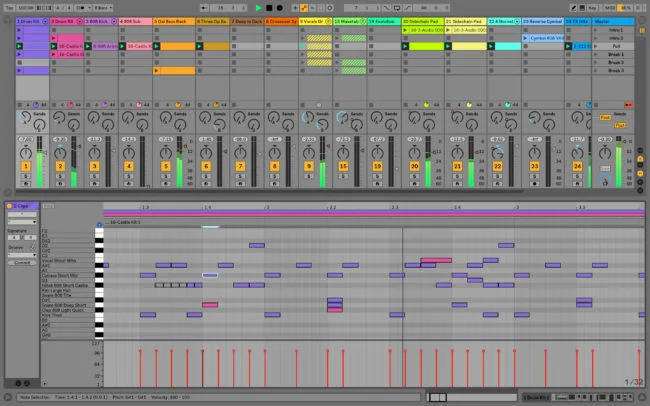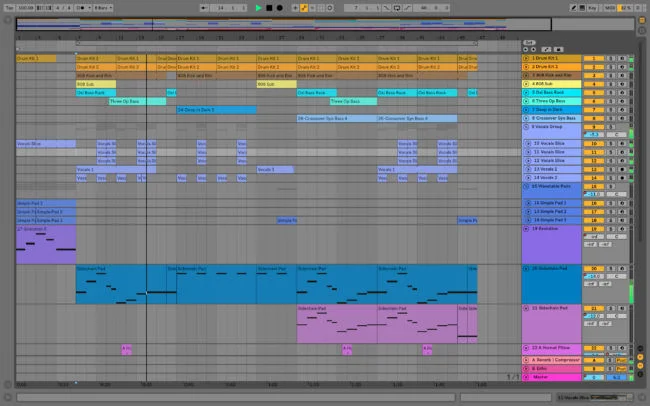 All of the standard DAW functions you need
In addition to the standard linear Session View, Ableton Live comes loaded with every standard DAW function you need. Nondestructive multitrack recording at up to 32-bit/192kHz is the beginning. You get powerful mixing and signal-flow tools such as bussing and return tracks. VST and AU plug-in formats fit right into your workflow, right alongside the wonderful tools bundled with Live. Live's MIDI sequencing capabilities are second to none, and easy access to automation curves, MIDI learn, and more make this DAW a total powerhouse.
More content than you could ever ask for
When you stop and consider the staggering amount of content Ableton packed into Live 10 Suite, it's almost too much to imagine. Download all 34 content packs, and we're talking about over 70GB of killer sounds — that's upwards of 5,000 sounds! You also get all 13 virtual instruments and 41 effects. That includes things like amp emulation, acoustic resonance, and other unique effects in addition to all of the standard effects, EQs, dynamics, and other processors. Top-notch synth and sampler instruments only add to the value, and that's not all. Live 10 Suite also includes the flexible architecture of Max for Live built right in, providing a whole new dimension to its creative potential.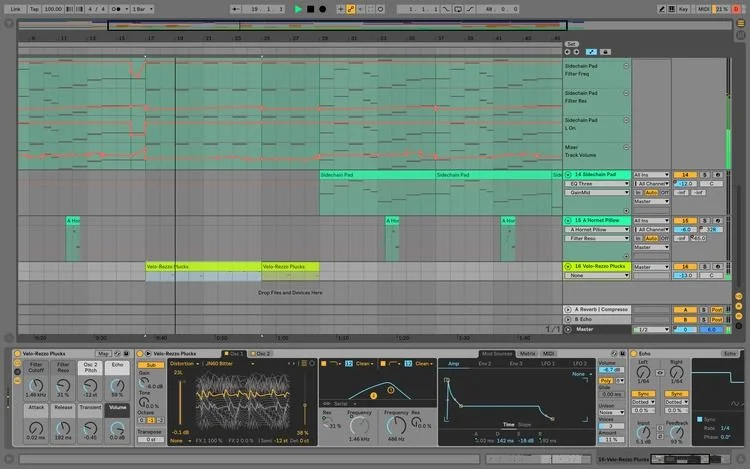 Make your own effects and instruments with Max for Live
In the unlikely event that you can't find the sound you're looking for somewhere in Ableton Live 10 Suite's massive sound library, then you're probably not looking hard enough. Otherwise, you've got some pretty zany ideas, in which case, cool! You're going to love diving into Max for Live. Max for Live is like a programming language, but instead of lines of code, you use virtual boxes, gizmos, and cables to turn your ideas into original instruments and effects — right inside Ableton Live 10. And to get you rolling smoothly with Max for Live, Live 10 Suite even includes an extensive collection of excellent Max Devices that will make building more complex modules much less difficult.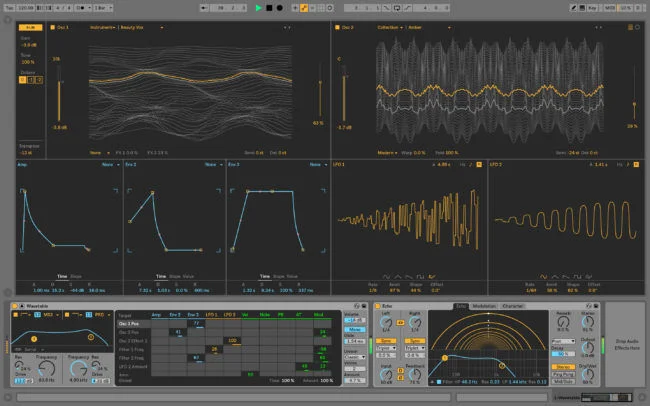 Live 10 Suite blows up your rig with killer new content
Nine new packs, six new effects, and a crazy new virtual instrument all bolster Live 10 Suite's content in beautiful new ways. From acoustic drums and breakbeats to keys, synths, and crazy textures, these new packs dramatically expand the kind of music you can make right out of the box with Live 10 Suite. What's more, you get four epic effects, starting with tools for polishing drums and tweaking tracks to stellar delay and stompbox emulations. Add to that the impressive Wavetable synth and expanded Max for Live integration, and you'll never run out of creative inspiration.
NEW Packs and Effects:
Drum Booth — Drum Booth contains carefully curated samples of acoustic kits recorded in a tight, dry room. Perfect on their own or as reinforcement for electronic drums, Drum Booth also offers unique post-processing options and experimental recordings not possible with standard acoustic libraries.
Electric Keyboards — Electric Keyboards is a new Pack featuring multisampled Fender Rhodes Suitcase, Wurlitzer A-200, and Hammond C3. Special attention was given to making this Pack sound as true-to-life and organic as possible. The result is characterful electric keys for any genre.
Synth Essentials — Synth Essentials expands the Core Library with fresh presets for Ableton's synths and samplers. Created by top artists and sound designers, Synth Essentials makes it easy to find the sounds you need with no interruption to your creative flow.
Build and Drop — Build and Drop is loaded with ecstatic leads, enveloping bass, slamming drums and a range of rises, sirens, and sound effects. A creative toolbox for building the irresistible anticipation and release this music uses to keep the party going.
Glitch and Wash — This collection explores the contrast of organic texture and precise rhythms – combining precision slices, jagged electronic noise and microscopic snippets of sound with warm ambient pads, textures, and soundscapes.
Drive and Glow — Drive and Glow combines swirling synth textures, overdriven guitars and basses and pounding drums. Carefully curated to be mix-ready out of the box, this Pack is perfect for creating tracks that radiate with saturated, indie vibes.
Punch and Tilt — A dancefloor-ready collection of sounds focused on machine rhythms, weighty bass, and dark, hypnotizing melodies, textures, and noises – a rough sonic aesthetic that started with a small group of underground producers and has grown into a worldwide scene.
Skitter and Step — A sound collection that inhabits the space where growling basses, rinsing pads and jarring melodies collide with jagged, broken percussion. The cavernous spaces, dubby basses, and tight drums are ready for production but were designed for deep sound manipulation.
Chop and Swing — A homage to the style that made sampling an art form and put a new kind of groove on the musical map. Chop and Swing comes loaded with curated recordings and professional presets perfect for cutting up and re-combining into fresh new tracks.
Echo — The sound of classic analog and digital hardware delays in a single device.
Pedal — Brings the analog character of overdrive, distortion, and fuzz stompbox effects.
Drum Buss — A one-stop workstation for drums, capable of adding warmth, distortion, drive, compression, transient shaping, plus a dedicated low-end section.
Utility — Multipurpose tool for adjusting gain, phase, stereo width, and more.
Tons of powerful new features in every version of Live 10
Ableton really stepped up their game with Live 10, introducing a bunch of great new features. If you've used previous versions of live, then you're definitely going to want to check these out. Both live and in the studio, organization is key. Being able to group tracks within groups lets you work with massive track counts efficiently, while I/O renaming is a nice bonus. Likewise, Browser Collections also streamline content management. Other great features include Capture, which lets you turn any performance into MIDI information, without thinking about recording, while Note Chasing will play MIDI notes, even if you start playback in the middle of a note.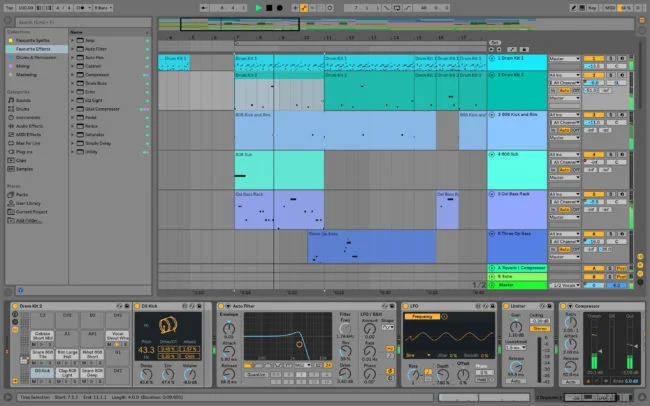 NEW Functions:
Max for Live (updated) — Powers a range of instruments and devices in Live Suite, and lets you customize or build your own devices, change the way Live works, and connect Live with the world around it.
Groups in Groups — Use multiple levels of groups to mix with greater flexibility and manage detailed arrangements more easily.
Capture — Recall your best ideas after you've played them – Capture can turn what you played into MIDI clips, without having to think about recording.
Browser Collections — Designed to help you better manage your Live 10 data, you can create Browser Collections that combine elements such as projects, audio files, device presets, and so on. It should make it much faster and easier to keep track of all files associated with a project, for example.
Note Chasing — Another often-requested feature, MIDI notes will be triggered even if playback starts in the middle of a note. Especially if you're working on ambient music with lots of long, sustained pads, you'll definitely appreciate this one.
I/O Renaming — Live 10 now allows producers to label Live's inputs and outputs to match your studio setup. Especially if you work with a large audio interface and lots of outboard gear, this is a huge help.
Improved Mixing Tools — Improved gain range and a Bass Mono feature that makes it easy to manage low frequencies. The EQ Eight device now offers an extended low-frequency range, down to 10Hz for better bass management. And Split Stereo Pan gives you independent pan control over split-stereo audio files.
Ableton Live 10 Suite Features:
Comprehensive DAW designed from the ground up for the creative studio or performing musician
Includes 5000+ sounds (70GB+), unlimited tracks and scenes, 13 software instruments, 42 effects, and 32 content Packs — Mac/PC VST, AU
Session View provides a nonlinear approach to music creation via groove/loop/riff arrangement
Arrangement View provides quick and intuitive composition plus flexible performance and improvisation options
Multitrack recording up to 32-bit/192 kHz
Nondestructive editing with unlimited undo lets you freely create
Powerful MIDI sequencing lets you take control of software and hardware instruments
Convert audio to MIDI to use with virtual instruments and more
Advanced warping and real-time time-stretching provides extensive flexibility with audio files
Get creative with unlimited Audio effects and MIDI effects per project
Includes a comprehensive selection of built-in audio effects, including a host of creative delays, filters, distortions, studio compressors, and EQs
Integrated Cycling 74's Max for Live lets you make your own instruments and effects
Full set of included Max for Live devices makes creating your own tools fun and easy
VST and Audio Unit support lets you use all of your favorite plug-ins and virtual instruments
Mix, match, and add effects without ever stopping the music
Powerful creative and performing environment for DJs and mash-up artists
Group tracks for better organization and simpler automation
Time signature changes allows you greater flexibility when scoring to video
Multiple automation lanes makes setting up intensely dynamic mixes easy
Track Freeze lets you free up your computer's resources without stripping down your mix
Automatic plug-in delay compensation minimizes phase issues and tightens up your mix
Instantly map MIDI control to nearly any parameter for a fully customized control environment
MIDI output and MIDI Clock/sync let you create deeply complex rigs combining hardware and software seamlessly
REX file support and native sliced audio file creation
Video import and export for scoring to picture or warping picture to music
Includes built-in step-by-step tutorials
ReWire support provides easy integration with Propellerhead's Reason and other software
Multicore/multiprocessor support
WAV, AIFF, MP3, Ogg Vorbis, FLAC file support